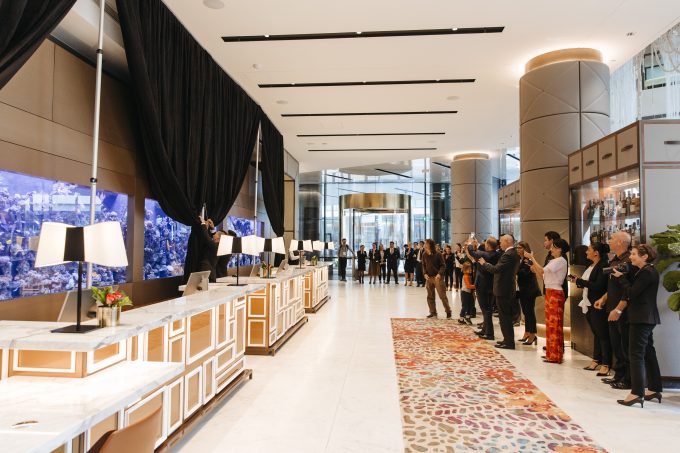 Australia's largest hotel fish tank is making waves at the waterside Sofitel Hotel on Sydney's Darling Harbour.
The aquarium made a splash when it was revealed last week, but long-term is designed to provide a calming focus for guests arriving at the hotel after a long inbound journey.
The 12-metre-long tank contains more than 50 marine species, including fish varieties from 'The Tank Gang' featured in the movie Finding Nemo.
The tropical aquarium is designed to evoke Australia's Great Barrier Reef and features many Finding Nemo favourites – such as the Ocellaris Orange Clownfish, Ocellaris Black and White Clownfish, and Damselfish, along with Barrier Reef Chromis, Green Chromis, Humbugs, Blue Lined Surgeonfish, and Flame Anthias.
The giant fish tank is the inspiration of the Sofitel's owner Dr Jerry Schwartz, who has introduced aquariums to a number of his other hotels around the country.
"Australia is dominated by its seascape, and we wanted to give visitors a really meaningful and vivid experience when they checked in," he said.
"We have had tremendous reactions wherever we've installed fish tanks because they are not only so colourful, they provide a very calming experience, especially after someone has flown around the world to get to Sydney.
"Of course, this aquarium had to be particularly memorable given that the Sofitel Sydney Darling Harbour was the city's first new-build international five-star hotel this millennium and is housed in such a prominent building.
"Just like our guests, the fish originate from all over the world, and even if our guests can't get to places like the Great Barrier Reef to see Nemo and his friends in the wild, they will be able to appreciate them during their stay in Sydney".
The design of the luxury Sofitel Sydney Darling Harbour draws inspiration from the area's waterside heritage, with maritime motifs the base for styling in its 590 guest rooms.