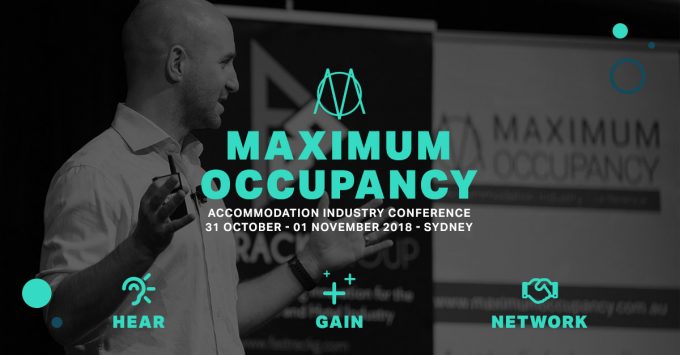 Experts from Booking.com, Qantas Hotels, SiteMinder and TripAdvisor are among a star line-up of industry professionals headlining the Maximum Occupancy conference in Sydney this October.
The event will focus on latest trends, future insights, and everything a hotelier needs to know to maximise revenue, boost direct bookings and adapt in the ever-changing accommodation industry.
Held at Sydney's Hilton Hotel on October 31 and November 1, this year's conference will feature a bigger line-up of speakers and more panel sessions and workshops than ever before.
A new Maximum Occupancy trade show, free for conference ticket holders, involves more than 30 suppliers showcasing services and products – from new tech through marketing tools and operations to revenue management.
And some 300 attendees will provide an opportunity for delegates to join an extensive global network.
"We are very excited to have so many registrations and one of the best speaker line-ups for any accommodation industry event," said Adrian Caruso, founder and managing director of organisers Fastrack Group.
"Each session and workshop will include industry and thought leaders from the wide cross-section of the accommodation sector."
Speakers and panellists already confirmed to appear include:
Lancemore Group – Julian Clark CEO & president of Accommodation Association of Australia
Triptease – Alex Kahn, market manager, Asia Pacific
Expedia – Drew Bowering, senior director, market management – Oceania
Quest Apartment Hotels – Paul Constantinou, chair
Skyscanner – Gianluigi Bazzini, senior commercial manager
Qantas Hotels – Tom Crouch, senior digital product manager
BIG4 Holiday Parks – Steven Wright, CEO
TripAdvisor – AJ Shantiratnam, senior consultant
Booking.com – Tracey Foxall, regional manager – Oceania
Best Western Hotels & Resorts – Graham Perry, managing director – Australasia
Ovolo Hotels – Dave Baswal, COO/CFO
SiteMinder – Dai Williams, SVP Global Partnerships
For more information and Early Bird registrations visit maximumoccupancy.com.au/2018-registration/