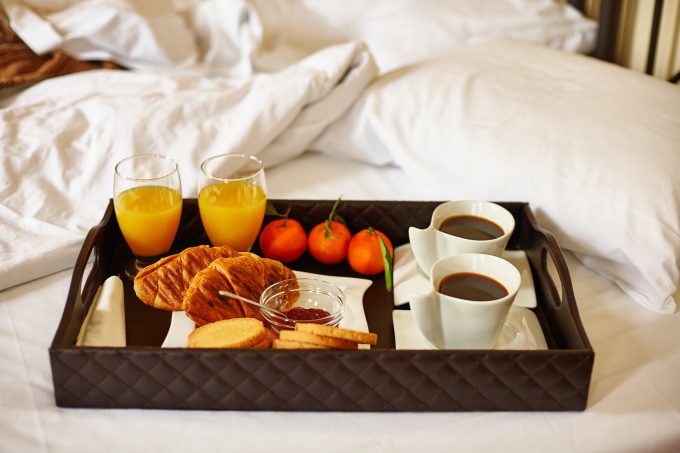 Hotel room service could become a thing of the past as food delivery company Deliveroo rolls out a global program to deliver local cuisine to guests.
The company is this week relaunching its corporate offering Deliveroo for Business, which provides food deliveries to over 7,000 corporate customers around the world, with the addition of new features and services aimed at large-scale corporate events and clients.
Deliveroo said it is seeking to be the "definitive food company", offering people food "whenever and wherever they want it", and added that this new offering is a "vital part" of the company achieving that vision.
The move follows a trial at 12 Quest Apartments hotels across Australia, with Quest looking to extend the service across 60 properties Down Under and Deliveroo for Business announcing it will roll out the concept internationally.
Participating hotels are stocked with in-room menus for guests to order from through the onsite services team, the cost added to their final bill.
Deliveroo says the new offering will mean hotels no longer need to operate a room service in-house which "tends to be very expensive" for the properties.
Deliveroo for Business first launched in September 2016 following a trend of office workers ordering Deliveroo to their desks.
Juan Diego Farah, global head of the for-business branch, said, "In just two years we've seen Deliveroo for Business customers completely reinvent the way they interact with food at work, seeing great food as a key retention tool in an increasingly competitive work market.
Our new services will continue provide even more opportunities for businesses to fuel and treat employees, guests and customers".
The business is catering its first wedding this December in London and taking bookings for catering Christmas parties for offices around the world. The new services will be rolled out immediately in all markets.
In the UK, 55 percent of Deliveroo for Business orders are made after 8pm to late-night workers, with Thai food the most popular delivery option, followed by Japanese and Italian cuisine. Breakfast is also big business, the delivery company receiving 26 percent of all early morning office orders.