Sydney's Westin Hotel in Martin Place will be given a face lift and rebranded to become the Australian flagship for Singapore's Fullerton Hotel and Resorts group.
Fullerton has announced that as of 18 October 2019, 1 Martin Place will become the group's third hotel alongside its Singaporean offerings The Fullerton Hotel Singapore and The Fullerton Bay Hotel Singapore.
Part of the property's transformation includes the cleaning and repair of the hotel's historic façade.
"As dedicated custodians of the building, and as part of our commitment to the community, this project has been designed to restore the beauty of the façade and will be carried out in line with the Heritage Management Plan and safety regulations," said Cavaliere Giovanni Viterale, general manager of The Fullerton Hotel Singapore.
 "We are delighted to have the opportunity to present The Fullerton Hotels and Resorts' award-winning style of hospitality and hotel to Australia."
The Fullerton Hotel Sydney will become a sister hotel to the luxury Singaporean properties.
Further north in Brisbane, TFE Hotels has launched the $100 million Calile, billed as 'Australia's first urban resort'.
The James Street development from architects Richards & Spence was commissioned by brothers Cal and Michael Malouf, who named the hotel after their great-grandfather. It encompasses a leafy retail precinct within ground level 'hanging gardens'.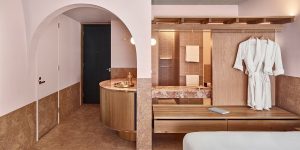 The hotel's 175 guest rooms include nine suites and two premier suites, while facilities include a wellness spa and a branch of the Greek restaurant Hellenika restaurant with a dining deck surrounding a Miami-style pool area.
Meanwhile, outside of the capital cities, Redcape Hotel Group has bought the largest New South Wales hotel portfolio south of Sydney in its latest string of hotel acquisitions as it moves towards listing on the Australian Securities Exchange.
The latest three-hotel portfolio buy comes as Redcape, owned by Moelis Australia, beefs up its pubs portfolio, which is expected to come to a market worth of around $1 billion.
The three hotels are situated in Unanderra, Figtree and Shellharbour and were sold by private consortium Denfish Hotels, which had acquired them over a ten-year period.
The deal is estimated to be worth around $50 million, which further backs Redcape as it aims to float with its billion-dollar portfolio. Moelis purchased the Redcape Hotel Group for $677 million in June last year.
Stockbroker Ord Minnett was appointed earlier this year to support the plans for a run on the ASX-boards in December.