An American hotel is putting its competition in the shade by personalising room colours to channel its guests' moods.
In a world first, the Angad Arts Hotel in downtown St Louis is offering a range of different-coloured rooms on check in to enhance the way visitors feel.
Its 146 guest rooms, including everything from lofts to queen rooms to two-bed grand suites, each come in four distinct palettes.
Guests feeling under the weather might find rejuvenating green just the tonic, for example, while others can stoke their emotional fires with passion red.
Then there's the chance to soak up some sunshine with happiness yellow or experience the serenity of tranquillity blue.  
Advocates of colour therapy, from ancient Egyptians to Aura-Soma practitioners, argue that everything that appeals to our senses enters our bodies as a colour vibration. 
By surrounding ourselves with a colour, it is believed photoreceptors in our skin and eyes absorb the colour's vibrations.
The Angad has embraced the idea, introducing its four themes through wall colours, drapes, throws and even the shade of the rubber duck in the bathtub.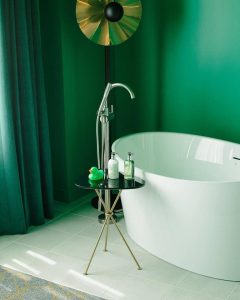 Each room also features an original artwork which corresponds with the room's assigned mood, while every bed features two colour-themed pillows, each printed with a (slightly disconcerting) picture of an eye.
The hotel, based in the uber-trendy Grand Center Arts District, claims to embrace art, performance, fashion, literature and gastronomy through "gracious hospitality combined with curation of socially inspiring experiences".
Designed by the Lawrence Group, it takes the trends of personalisation and quirkiness to a new level.
"The colour palette of our rooms sets the mood for your stay," the Angad website says.
"Choose your room by how you are feeling in the moment. Whether your choice is passionate red, tranquillity blue, a happy yellow or green rejuvenation our rooms and amenities are perfect for work and play."