NSW hoteliers Robyn and Allan Cox want their beloved accommodation to remain a part of the community when they leave – which is why they're giving it away.
The pair paid $470,000 four years ago for the two-storey Victorian property in the village of Bethungra on the NSW Riverina, known alternately as the Hotel Shirley and Bethungra Hotel B&B.
But they will charge prospective new owners just a $100 application fee each to be in the running to own it.  Most of the furniture will be included in the exchange and the Coxes will pay the bulk of  stamp duty and settlement costs.
"It's about putting the right person in the building and taking care of the future of the community," Robyn told Lonely Planet.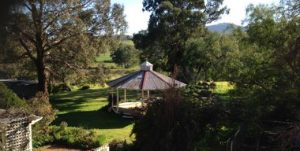 The Coxes are advertising the sale on social media with accompanying interior and exterior photos and details of its gardens, 13 bedrooms, two lounge rooms, dining rooms, function centre, reception room, store rooms and owner's residence.
They need at least 20,000 applicants to cover their costs and will refund people if the target isn't reached – but are confident of success based on current indications. If they receive more applications than they need, they will "go to the community and see what they need", Robyn said.
The couple have already received numerous ideas for use of the 1886-built property, according to Robyn.
"We get a lot of the usual ideas from the hospitality industry, because the building is designed for the hospitality industry," she told Lonely Planet.
"But we're also getting a lot of dreams coming out because there is no overhead. When you don't have the expenses you can let your dreams go wild."
The application website is expected to be functioning by the start of December and applications will be accepted until the end of February.
The village of Bethungra, formerly a bustling railway hub, is 23 kilometres south of Cootamundra and 69 kilometres north of Wagga Wagga.
The Coxes said in an earlier social media post: "We have enjoyed our time here and the beautiful memories we've made: 14 weddings, including our own, getting engaged in the backyard, bringing our gorgeous little Abigail into the world in March last year and not to mention all the wonderful people we've had through the doors."
The couple will move to a new home on 60-acres following the exchange next year. The new hotel owner will be decided by a "neutral" third party.