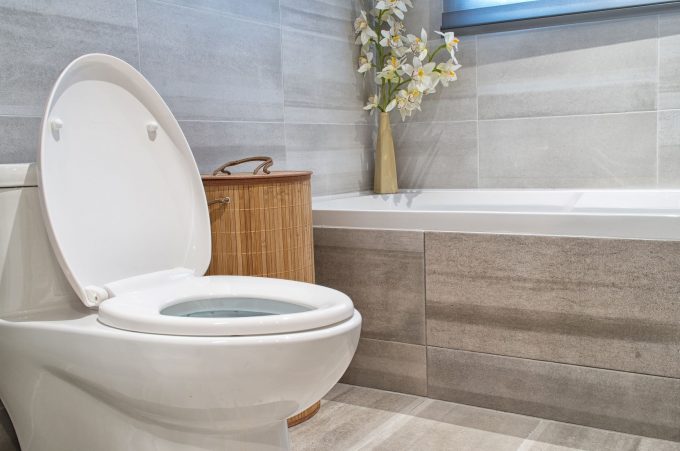 Keeping up with the revolving door of bathroom trends in an ever-changing and demanding industry is something of a nuisance. Even when it pays dividends.
To keep it simple, today we focus on the hardware and technology trends, rather than beautifying aesthetics. Of course, the two do intertwine. 
Showering off the old and bringing in the new
If there's one piece of hardware in a bathroom that gets people talking, it's the shower. Water pressure has a massive presence in guest reviews, as does ease-of-use, cleanliness and plain ol' sparkle.
An impressive looking shower will hold a certain amount of sway with guests but what they really want to know is how well it works.
Whether it's an overhead, wall-mounted, adjustable rail shower or hand-held shower head with a hose, there are a plethora of design options available.
Each type has its pros and cons for users as well as different compatibility with space. If you are short on space and looking for a shower to go over a bath, you'll also need to look at shower converters when shopping for taps.
Taps are a huge consideration because if they're poorly constructed or ill-fitting they may break easily or guests may have trouble figuring out how to use them. On the flip side, statement taps can give your bathroom an edge, so choose something that's in-keeping with the style you're going for whether that's a geometric design or something more rustic. 
Lighting up your best assets
Your best asset being your guests: mirror lighting is a huge plus! We are living in the age of the vlogger and the beauty guru. The ladies (gents and many in-between) want a ring light so they can see every freckle and pore. They can make sure their skincare regimen is carried out to perfection and have the perfect place to sit and do their makeup.
Having to hover by the window in broad daylight to put your makeup on before sunset or use your phone as a torch because the room is mood-lit, is just no way to prepare for cocktail hour.
Backlights have a minimalist glow but any variation of LED vanity wall lights, or even Hollywood-style mirror lights do a fabulous job of adding functionality and liveability to a bathroom space.
It's important to drown your wet room in plush lighting wherever possible. This will change depending on your layout but have a well-lit shower and/or bath that feels warm and inviting to guests.
A single light in the centre of the bathroom ceiling may not be the best option, as the corners of the room will be cast in shadow and this is usually where the shower and vanity or toilet sit. Adding creative lighting choices that focus on highlighting the spaces your guests will be using most frequently will really help.
Trending toilet seats (the underrated guest-winner-overer)
Toilets, and particularly toilet seats may be an overshadowed item in the standard guestroom but if chosen properly they can be a unique selling point. At Accomnews, we've seen all manner of toilets come on the scene, from marble to brass, oval to square. There's no limit to the types of toilet seat design that are out there.
It is vital, however, that seats be well-made. Particularly in accommodation spaces where people of all shapes and sizes are going to be using the in-room loo, it's good to choose a sturdy tried-and-tested product that your supplier can vouch for.
Guestroom seats should expect to be higher weight-bearing than the average: industry insiders recommend starting with 240kg and looking out for steel hinges. 
This should keep you worry-free for a good while but if housekeepers spot a wobbly or cracked seat – replace it as soon as possible to avoid guest complaints.
One thing to focus on from the get-go is privacy. Open-plan bathrooms have become something of a trend in recent years but beyond business travel, there are few situations where a guestroom will only have one guest and an open-plan bathroom has its privacy concerns. Even a frosted glass barrier can get the job done.
Automatic tech: for the lazy or hygienic?
There's a quote floating around the internet about laziness factoring into necessity as the precursor for invention. There might be something to be said for that, as some of the coolest inventions we now enjoy have an element of laziness thrown in – the remote control, Google Home, cars, vacuums, the internet. When it comes to automated bathrooms, at first glance it might seem a bit lazy to watch motion sensors, virtual light switches and smart mirrors come into vogue. But it's much more than invention for the sake of technology.
The less touch required in a bathroom, the more hygienic and the more accessible. The flatter and smoother the surfaces and walls are, the easier to clean and maintain.  
Chromotherapy in a guest bathroom can calm visitors and create mood without the need for fire hazardous candles or old fashioned lamps.
The nature of a guest bathroom being in such close proximity to the standard guestroom, means that installing these features in the bathroom will also benefit the bedroom without having to carry out an extended refurb. Chromotherapy, for instance, installed in the bathroom may also light up the bedroom. Particularly if you have frosted glass separators.