A Sunshine Coast icon once the most visited tourist site in Australia is undergoing a transformation set to generate $45 million a year.
The Big Pineapple near Nambour is edging towards completion of a $150 million revitalisation which will see restoration of its former macadamia nut factory and creation of a high ropes and zipline course, a water park, adventure precinct and zoo, concert space, eco-resort and $60 million agribusiness precinct.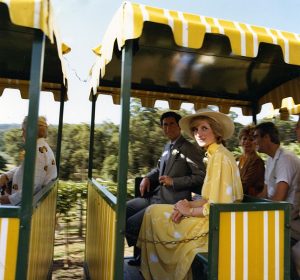 In its heyday during the eighties, the Queensland drawcard attracted more visitors than any other tourism attraction in Australia, with notable celebrity guests including Prince Charles and Princess Diana. It still holds treasured memories for many Australian families.
While a lack of major investment has seen the 170ha site's fortunes hit the skids in recent years, all that is about to change.
Visiting the Pineapple last week, state tourism minister Kate Jones said the master plan for the heritage listed tourist park was "very impressive".
Work on upgrading the nut factory is well advanced, while the high ropes and zipline course is scheduled for completion by May. The two-kilometre course, featuring about 120 activities and challenges and a 120m zipline, will take people around a half a day to complete.
"Work on the project is tipped to pump nearly $90 million into the Sunshine Coast's economy and 800 construction jobs will be on offer," said Jones.
"More tourists mean more jobs for locals. Once it's fully operational, the revamped Big Pineapple site will support more than 630 local jobs. Importantly this will pump $45 million per annum into the Sunshine Coast economy through expenditure and overnight stays."
Alongside the adventure, accommodation and recreation elements, the renewal plans for the Big Pineapple include a food and tourism hub to showcase the region's produce, including coconut foods by local producer COYO and a craft brewery and distillery.
The events space will support a music program including the annual Pineapple Music Festival and other major events, while a travel centre including a service station and educational elements including a school camp will be introduced.
Visit Sunshine Coast Ceo Simon Latchford said food-based tourism was an emerging part of the region's tourism economy and an increasingly important drawcard for the Sunshine Coast.
"While the Sunshine Coast may have some of Australia's most appealing natural attractions, a new era of hotel and tourism products is vital if we are to fulfil the region's tourism potential, grow the economy and provide a significant flow of new jobs for the area's growing population," he said.
National Visitor Survey data for the year ended September 2018 shows 1.9 million domestic tourists spent $2.4 billion on the Sunshine Coast last year while a record 319,000 international tourists spent nearly $250 million in the region. The industry supports more than 23,000 jobs locally.