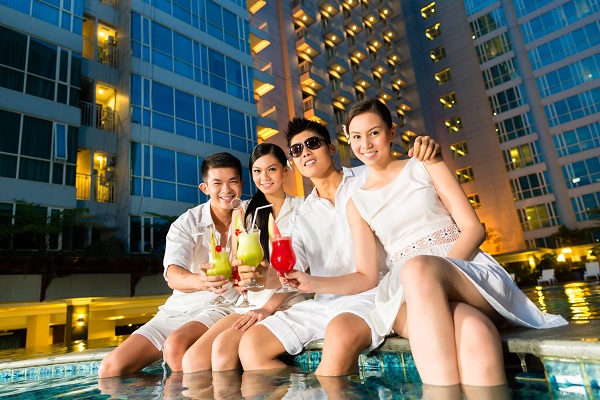 Big-spending Chinese tour groups are the target of an $11 million funding boost likely to "pay for itself many times over" according to the Australian tourism minister.
Announcing the plan on the eve of Lunar New Year celebrations, federal minister Simon Birmingham pledged to more than double the budget for the government's Approved Destination Scheme, which attracts cashed-up Chinese happy to spend $865 per head, per night on tour.
Over the past 12 months, tourists using the ADS scheme spent about $700 million in NSW alone and accounted for one quarter of all Chinese visitors to Australia.
It gives tour operators special accreditation highly prized by Chinese visitors, which opens the doors to targeting premium prospects looking to stay in luxury hotels, spend big with high-end retailers and dine out in style.
"Australia's scheme is regarded as best practice with strict accreditation requirements and ongoing monitoring of tour operators helping to ensure Chinese travellers who visit Australia on a tour get the highest possible quality tourism experience," Mr Birmingham said.
"It's a major reason why China is Australia's fastest growing and highest spending inbound tourism market."
The funding comes as travel agencies report a slowdown in the numbers of Chinese looking to spend Lunar New Year in Australia this year as economic conditions at home begin to bite.
While seven million will travel abroad for the two-week festival, destinations closer to home are reportedly attracting the lion's share of tourists during China's longest annual holiday.
 "China still presents enormous opportunities for growth and the more tour groups we can attract to Australia under the ADS, the more tourism dollars injected into Australian businesses and our economy," Mr Birmingham said.
"That's why this funding boost for ADS is critical to making sure thousands of Chinese tour group tourists who come to Australia have a cracking time while getting a taste for our world-class natural beauty, food and wine, iconic attractions and wildlife.
"Positive experiences as part of a tour group fuel stronger word of mouth endorsements via platforms like WeChat, which in turn helps to attract more tourists including more independent travellers."
According to Tourism Australia, 1.42 million people visited Australia from China in the 12 months to September 2018, spending $11.5 billion.
Making travel between China and Australia as easy as possible has long been identified as a priority by tourism sector bodies such as the Tourism Association Australia, and immigration minister David Coleman this week reaffirmed its importance.
"In addition to the ADS, our government continues to improve the competitiveness of our visa system for Chinese visitors with the trialling of ten-year multiple entry visitor visas and online visa lodgements," he said.
"Initiatives that make it easier for Chinese tourists to travel to Australia such as online visa lodgements and enabling lodgement applications in simplified Chinese will only further boost the attractiveness of Australia as a holiday destination."