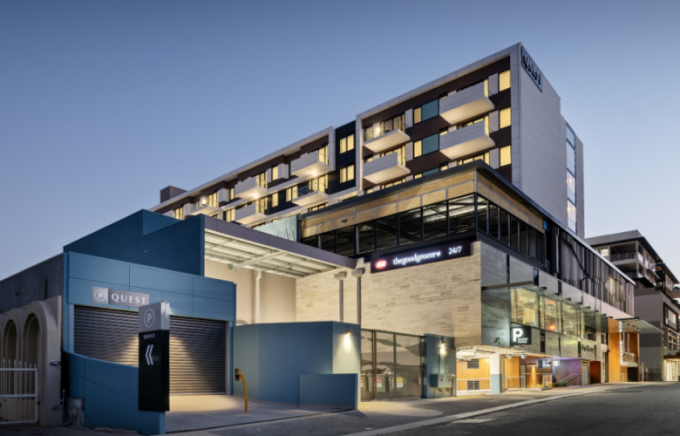 The 90-apartment Quest South Perth Foreshore Apartments opened it doors this week, adding to the inventory of a city already suffering a serious oversupply of visitor accommodation.
The apartment complex features studio, one, two and three-bedroom apartments aimed at the 'modern business traveller' market and boasting spacious rooms and state-of-the-art technology integration.  It sits in the heart of the WA capital's Mends Street Precinct off the South Perth Esplanade with access to nearby cafes and shops.
Over the last few years, Westin Perth, InterContinental Perth, Aloft Perth and QT Perth have led a raft of accom developments across the WA capital.  But since the end of the resources boom, corporate demand has dropped and a city with a ten percent increase in rooms has only seen a five percent increase in demand for accommodation.
Perth hotel rates are among the lowest in the country, averaging $165 compared to $221 in Sydney and $184 in Melbourne, while its occupancy sits well below the other major capitals at 78 percent.
Gus Moors, head of hotels at Colliers International Australia, said this week: "During the mining boom (Perth) was one of the best hotel markets in the country. So you had all the developers thinking, 'I'm going to build a hotel in Perth'.
"A lot of those projects were conceived in 2012, 2013, 2014, but then the mining boom fell over and the Perth hotel market changed quite dramatically."
Despite this, and EVENT CEO Jane Hastings' assessment that "Perth is a tough market with negative market revenue per available room growth forecasted for the next three years", major industry players are pushing forward with large-scale developments across the city.
Direct Qantas flights to London, big ticket infrastructure such as the new Optus stadium, international recognition of WA as a must-visit destination and a state tourism drive targeting the Indian market are all fuelling confidence in Perth's prospects long term.
Quest Apartment Hotels general manager for growth, James Shields, said South Perth is seeing a growth in business travellers and tourists drawn by the suburb's construction, logistics and health care services.
"Business and leisure travellers at Quest South Perth Foreshore in this fantastic location will be able to enjoy a modern and premium apartment hotel experience featuring contemporary interior design and architecture which we're proud to lead in the Australian market," he said.
Quest Apartment Hotels Chief Commercial Officer, Craig Ryan, added: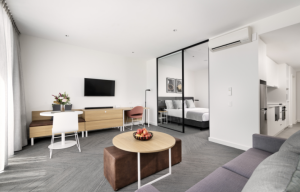 "South Perth is one of the state's fastest growing urban areas with thousands of small and medium sized businesses, government departments, universities and residents calling it home.
"We are proud to now accommodate extended-stay and relocating business travellers in the area with South Perth's leading apartment hotel."
The apartment accommodation offers views of the city skyline and is close to Perth Zoo, the Royal Perth Golf Club, Curtin University and the Bentley Technology Park.
It boasts a gym, outdoor BBQ and entertaining area, a business lounge, meeting rooms and a conference space equipped with latest interactive audio-visual equipment.