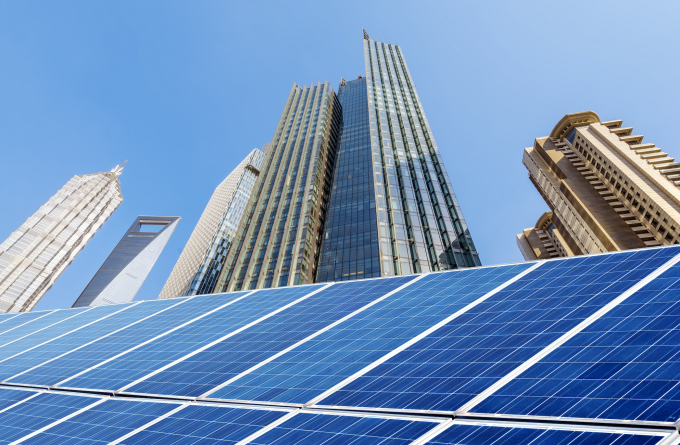 Solar is surging in Australia.
2018 saw solar panels installed in record numbers across the sunniest continent on earth and at a rate more than double that of the previous year – which was also a record breaker.
Close to 13 million installations now adorn homes, businesses and solar parks Down Under as Aussies scramble to embrace a technology that appeals to their wallets and their consciences.
The Double Tree by Hilton in Alice Springs has Australia's largest hotel rooftop solar system. Since its installation, CO2 emissions have been cut by 420 tonnes per year and up to 80 percent of the hotel's power requirements are met by solar.
"This technology simply makes good economic sense, with renewables such as solar now the cheapest form of new energy generation," says Professor Andrew Stock, founder of the Clean Energy Council.
"We've got a never-ending and widely available power source at our fingertips, which can cut the nation's rising greenhouse gas pollution and combined with storage, can provide cheap power across Australia on demand, 24/7."
For an accommodation business, installing solar power makes sense on numerous levels. It delivers:
Return on investment – as electricity prices rise, solar power costs are falling. Payback on commercial solar installations varies from three to seven years, depending on installation costs, brands and technology and the nature of the project.
Stable costs – solar systems have a design life of several decades, providing predictable energy costs in a volatile market.
Greenhouse gas reduction – Every kW of solar power installed can reduce greenhouse gas emissions by more than two tonnes a year.
Star ratings – NABERS (the National Australian Built Environment Rating System) measures building performance for water use, waste management, indoor environment quality and general energy efficiency on a scale of zero to six stars – six being the most efficient. Properties with a NABERS rating of four or higher can deliver significantly higher returns than lower or non-rated properties, with solar power a major contributor to achieving a rating increase. The Green Star is another internationally-recognised voluntary ratings system which assesses the sustainability of building design, construction, and operation. Again, a good Green Star rating can make your accommodation a more appealing proposition for potential buyers.
Marketing opportunity – promoting green credentials to guests can be powerful, particularly when every kW of your accom's solar power can reduce greenhouse gas emissions by more than two tonnes a year. Solar power is a highly visible commitment to the environment.
Happy workers – research shows modern workers want to feel good about who they work for. Evaluating their employer's green credentials is part of their career decision-making process.
Set ups
Solar set ups vary in size and complexity depending on the scale of your accommodation business.
Smaller properties will most frequently fall into the 30 to 100kW category, while larger hotels and resorts generally requiring systems generating more than 100kW. Specialist commercial fitters are required for both, and installations must be approved by local electricity networks to ensure they include systems to protect the grid from the electricity they can generate.
Both systems attract different payment rebates: Anything under 100 kW is eligible for STCs (small-scale technology certificates) – rebates paid in advance as an upfront discount of the cost of a system. Over 100kW and you're into LGCs (large-scale generation certificates) which require systems to be accurately tracked using a meter, reported and claimed each year.
Larger commercial systems also tend to attract approval conditions which can add to costs and affect your system's projected savings if an installer has not factored those costs in.
The lesson is that it's vital to choose a reputable commercial solar installer who will supply a quality system appropriate to your businesses' needs, provide ongoing maintenance and give you an honest picture of the costs involved.
Solar hot water
Alongside the increase in uptake of solar power is an exponential growth in solar hot water systems.
Accommodation properties expend thousands of litres of hot water on servicing guests. From water used for showers and linen washing to requirements for food service, solar thermal systems can dramatically reduce water heating expenses.
Quality providers can design and engineer solar thermal systems for numerous applications to create a 70 to 78 percent energy reduction, with a payback generally completed within three to four years on a system with a lifespan up to 30 years.
Solar hot water used for pools and spas provides consistent warmth during the summer months and significantly extends the swimming season, with virtually no running costs.
Heat pumps provide added energy efficiency to solar hot water systems. Using the same reverse cycle technology as air conditioners, they transfer heat or cold to pool water using a titanium heat exchanger.
And a new generation of super-efficient solar variable speed pumps, which only kick in at the level necessary for a specific function (filtration has a different energy requirement to heating, for example) also help create big savings over time.
Industry view: Tom Boadle, CEO Sunbather
Since 1974, Sunbathers' recommendation for energy efficient pool heating has not changed and goes like this in order of priority:
Solar pool heating must be the primary pool heater. It's by far the cheapest to run.
Install a pool cover. You're simply insulating your pool to retain the heat, much like your home.
If you still need more, use gas or electricity as a "top up" heater to keep those bills down.
Another reason to invest in solar and covers is that the return on investment has improved markedly with rising energy prices.
Sunbather audits show:
Solar pool heating will pay for itself in around three years. It lasts over 20 years.
Pool covers will pay for themselves in around 18 months. They last for around ten years.
For pool operators, these numbers cannot be ignored, as the investment return is massively greater than other energy equipment such as LED lights, or photovoltaic panels on the roof.