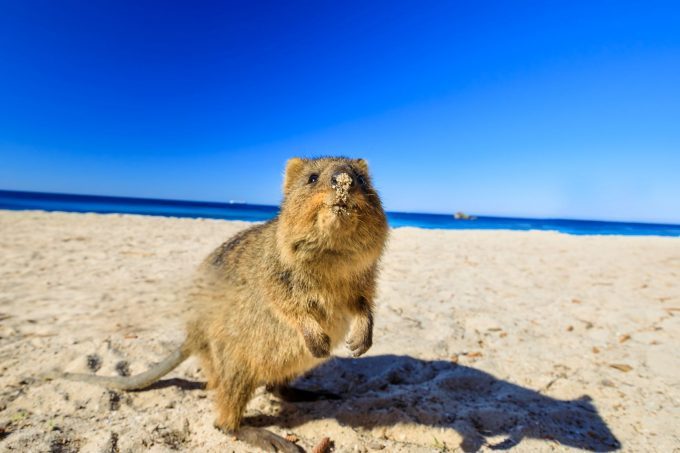 Rottnest Island is to get a $33 million overhaul in recognition of its status as a world-class Australian tourism destination.
Federal tourism minister Simon Birmingham this week announced a $17.2 million upgrade program for the former penal colony, including $12.2 million to upgrade the island's jetties, wharves, piers, roads, sun shelters, walking trails signs, lighthouse and railway.
Another $5 million will go towards improving the island's museum, the federal funding forming part of a $50 million grant earmarked in last week's federal budget for improvements to the nation's most important tourist attractions.
Mr Birmingham's funding announcement was closely followed by a state government commitment from WA premier Mark McGowan of $16.2 million towards jetty infrastructure upgrades on the island.
The joint spend represents the biggest overhaul of Rottnest Island since World War Two.
Mr McGowan said endorsements of Rottnest's charms by Hollywood A-listers were helping promote the island, and its ultra-cute native animals, to the world.
"Since taking office, my Government has moved swiftly to invest in marketing Rottnest Island and many other popular WA tourist destinations to holiday-makers," he said.
"Rottnest has become world famous since we've had the likes of Chris Hemsworth, Matt Damon, Margot Robbie and Roger Federer leading the quokka selfie movement.
 "This record investment will set up Rottnest Island as a premier tourism hotspot for generations."
Mr Birmingham described Rottnest as an "Australian tourism icon" etched into the memories of the hundreds of thousands of people who visit the island each year.
"It has enjoyed high visitor growth in recent years and is on track to reach its 2034 target of 800,000 annual visitors well ahead of schedule," he said.
"But with growth comes pressures on capacity and infrastructure. This funding recognises these pressures and will allow upgrades to be done to maintain those iconic visitor experiences."
Australian Hotels Association (WA) CEO Bradley Woods welcomed the acknowledgement by both levels of government that Rottnest Island has become a key drawcard for domestic and international tourists.
"Rottnest Island is increasingly known across the world as a unique, picturesque and laid-back destination with famous camera-friendly quokkas and spectacular beaches," Mr Woods said.
"Those coming to WA to visit Rottnest Island also spend their time in Perth and many other parts of the state, spending in hotels and hospitality venues throughout WA.
"History has proven that when strategic infrastructure investments are made, the benefits are shared by all."