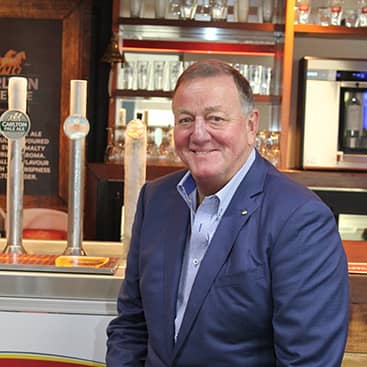 A man described by Victorian premier Daniel Andrews as "a giant of the hotel industry and a great Victorian" has died after contracting a post-operative infection.
Peter Burnett was Australian Hotels Association national president of 21 years and a former director of Tourism Australia who ran Geelong's iconic Lord of the Isles Tavern after almost 40 years.
Mr Burnett served three terms as national president of the Australian Hotels Association and spent 21 years at the helm of the Victorian AHA branch before retiring from the role last year.
He was an AHA Victoria and AHA National Life Member, an AHA National Hall of Fame member and served as board member of both Tourism Australia and Visit Victoria.
In 2015 he was appointed as a Member of the Order of Australia "for significant service to the tourism and hospitality sector at the state and national level and as a supporter of charitable and sporting groups".
The AHA said Mr Burnett was a mentor for many in the industry. Victorian CEO Paddy O'Sullivan said on his retirement as president: "Peter Burnett has served the association with distinction. This industry is in great shape and thanks to Peter's strong leadership we have created a bright future for the tourism and hospitality industry we represent."
Tributes flowed for the big-hearted publican as news spread of his death while in Queensland with family.
He sold the Lord of the Isles Tavern, a four-time winner of Victoria's best bistro, just a month before his death, proud of having grown the workforce of 14 to 70 and saying he was looking forward to moving on.
Friend Ian Cover spoke on behalf of the Burnett family following his death, saying: "Peter's leadership of the Australian Hotels Association in Victoria and, nationally, his tireless efforts behind the E.J. Whitten Foundation in its fight against prostate cancer and his passionate interest in the Geelong Football Club are well known.
"But perhaps the legacy for which he will be remembered most will be his commitment and contribution to Geelong and its community.
"He supported a vast number of charities, hospitals, schools, kindergartens and clubs. He never sought recognition or kudos from this involvement.
 "But his greatest love was Jan. They formed a formidable team for more than 45 years and he often said: 'Jan has been my rock. I would have achieved nothing without her encouragement and wise counsel'."
Among those paying tribute was the Victorian premier, who described him as a "good friend", and the Geelong Football Club, which said: "Peter had a profound impact, not only on the football club, but the Geelong community."