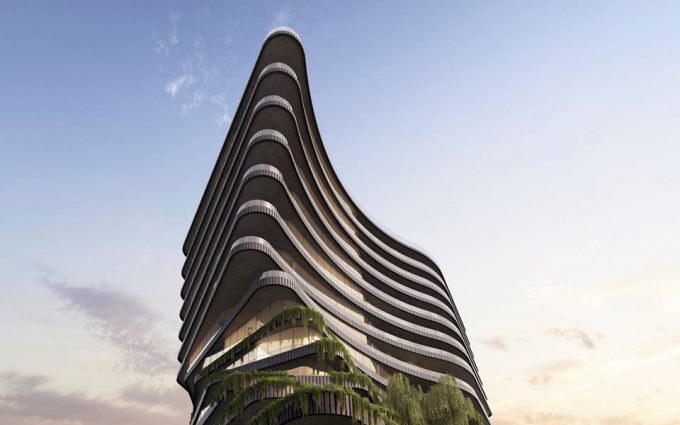 A $250 million luxury hotel development set to change the face of Mooloolaba on Queensland's Sunshine Coast has been officially submitted for approval.
The Weekly Times reports Aria Property Group has submitted its vision for an international five-star hotel and residential development opposite the Mooloolaba Surf Club.
The 14-storey development at 1 The Esplanade is expected to cost $130 million in construction, with plans including a rooftop bar and restaurant, a 590sqm ballroom, a day spa and a pool with ocean views.
It encompasses a 139-room hotel and 66 balconied residential apartments, a central 'void' allowing fresh air to circulate throughout the building and green planting proliferating across numerous levels.
The ground floor will see a mix of shops, eateries and bars, including a hotel signature restaurant, across the 1764sqm footprint.
A total of 220 carparks have also been proposed as part of the application, which was formally lodged on Friday.
The project has not progressed without incident. Issues surrounding  maximum height restrictions – resolved when Sunshine Coast planners controversially voted to lift maximum height restrictions from 37.5m to 50m to accommodate the hotel – have stalled progress over the past two years.
Aria's residential development manager Michael Hurley told the Weekly News this week's submission was a significant milestone.
"This is a unique opportunity to establish Mooloolaba as one of Queensland's premier dining and retail precincts," he said.
"Discussions are already well advanced with some of Australia's leading restaurateurs to anchor what will become an iconic project for the Sunshine Coast."
Melbourne Meriton – finally..
Meriton is finally making its Melbourne debut after six decades of operating in Australia, with plans announced for a CBD hotel apartment complex between Bourke and Little Collins streets.
The 263 residences at 140-146 King Street will form part of the $12.3 billion Meriton empire founded and run by Harry Triguboff, Australia's richest property developer, and are the 86-year-old's first foray into the Victorian market.
"It is very exciting for us to bring Meriton to Melbourne, giving the hotel a complete presence from Melbourne, throughout Sydney and up to Brisbane and the Gold Coast," Triguboff told The Urban Developer.
"Guests have been asking for a long time, 'when are you coming to Melbourne', but it hasn't been the opportune time, until now."
The new 792sqm site, currently home to office and retail buildings, comes with a planning permit for a 57-level building.
Rothelowman architects will design the apartment complex, with Meriton saying the company is committed to working with Melbourne builders and trades on its construction.
The move represents Meriton's first venture outside of Sydney, Brisbane and the Gold Coast.
Hilton building
Global hotel giant Hilton is to almost double its footprint across Asia-Pacific in the next five years, with the company looking to add 23 new properties to its current portfolio of 27.
Already under development are a 245-room Hilton in Western Sydney and a 600-room Hilton on Melbourne's Southbank, both due to open in 2023, while DoubleTree by Hilton will open new hotels in Perth and Melbourne next year and another in Fremantle in 2022.
According to Commercial Real Estate News, Hilton is eyeing either Sydney or Melbourne for the launch of its premium Conrad brand, and Sydney's existing CBD Hilton is set to undergo a multi-million-dollar refresh shortly.
"We're now also looking for opportunities to launch our Garden Inn brand in Australia," said Alan Watts, regional president Asia Pacific for Hilton.
"Australia at the moment is in a moderate cycle, and we usually need occupancy in the high 80 per cent for profit growth.
 "But when the China trade war is resolved we'll be back to double-digit growth in Asia, and when the election is over in India and in Australia, we hope we'll see travel coming back. Everyone wants to invest in Australia, there's no shortage of capital."
The 100-year-old hotel group boasts new and proposed Hiltons across Fiji, Papua New Guinea and New Zealand alongside its Australian portfolio.