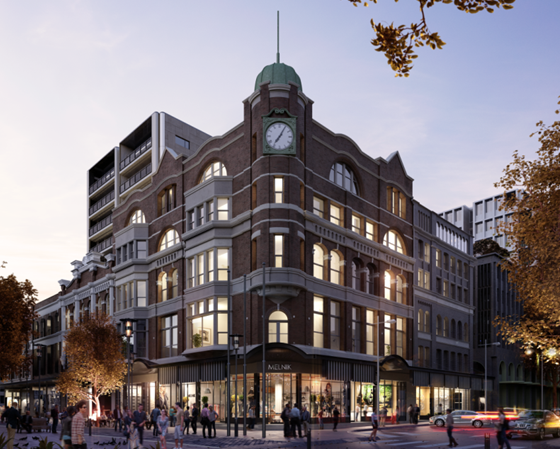 QT has announced a new boutique hotel for the revitalised Newcastle city centre, the second luxury brand to invest in the NSW coastal town this year.
Formerly known as an industrial centre, Newcastle is experiencing a renaissance as a tourism destination and its city centre is undergoing a $1.4 billion revival.
Boutique hotel brand Crystalbrook Collection recently announced it would be taking over the roundhouse formerly home to Newcastle City Council and turning it into The Kingsley five-star hotel.
QT will debut in the former David Jones building on Hunter Mall with a 106-room hotel forming part of a $700 million mixed-use development by Iris Capital.
QT is part of the Event Hospitality and Entertainment Group, with the group's chief executive Jane Hastings saying Newcastle's town centre redevelopment made it "was a great time" to develop a QT within the 111-year-old Hunter Mall building.
"The city is being revitalised and QT will be at the heart of this precinct," she said.
"QT Newcastle will be a result of transforming the heritage David Jones building into a 106-room hotel with a boutique roof top bar and signature dining experience, all true to QT style."
Event will operate QT Newcastle under a management agreement with Iris Capital.
Iris CEO Sam Arnaout said there had been "a lot of interest" in the site, but QT had won out in the competition to find the most suitable operator.
"No other operator is better suited to the space," he said. 
"We wanted to find an operator that respected the history of the East End and QT has a fantastic track record of transforming heritage buildings respectfully.  QT will deliver a result that benefits the heritage precinct, our stakeholders and the community.
"There is no doubt anyone who has stayed with QT knows they are perfectly matched to the Newcastle market.
"Their boutique hotels are edgy and sophisticated, and they are experts in hospitality.  They work hard to be different from other operators and we wanted a point of difference for the East End."
QT Newcastle is the fourth hotel announced by Event in the past 12 months, with a QT Auckland to open this year and QTs in Parramatta and Adelaide to open in 2021.