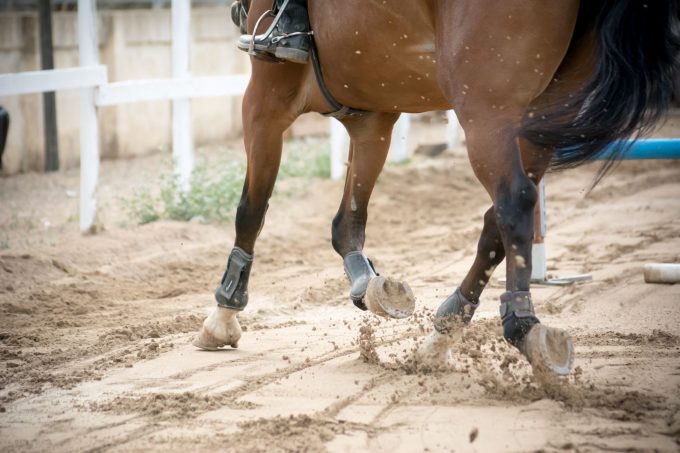 A vast $1 billion resort and equestrian centre aimed at cashing in on the Chinese obsession for horse riding is planned for Townsville in Queensland's north.
Preliminary drawings for the North Queensland Country Club Resort and Equestrian Centre include 2,800 hotel rooms and apartments to be built over five stages, with a project completion date of 2044.
The development will include indoor and outdoor training arenas, stabling, polo fields, training areas, vet services and cross-country trails with access to Halifax Bay, alongside facilities to host international equestrian events like polo matches, show jumping competitions and rodeos.
Campsites, an art gallery and restaurants are included in the development proposals for the Toolakea Beach site 30kms north west of Townsville.
Developer Landmark Projects anticipates the resort will attract 240,000 visitors per year in its first stage, eventually creating some 3,750 full-time jobs and injecting more than $360 million per year into the Townsville tourism economy.
The Chinese equestrian industry has grown significantly since the Beijing Olympics in 2008, with well-off Chinese viewing equestrianism as a desirable and exclusive leisure activity.
Some 1,452 equestrian clubs in China with an estimated 450,000 registered amateur riders were in operation across the country by the end of 2017, according to The Urban Developer.
"Chinese tourists are also moving away from the 'mass tourism' groups and instead, now seek opportunities to experience the 'great outdoors' with more nature based and authentic experiences, albeit with accommodation options that will meet their needs," said developer Landmark Projects' initial advice statement.
"This growth in equestrian activities establishes a strong platform and a significant opportunity for the project to further assist in capturing and catering for the burgeoning worldwide and Chinese equestrian market."
Queensland planning minister Cameron Dick said the independent coordinator-general had made the declaration for the Toolakea Beach development and would now carry out the environmental impact assessment.
"This important project has the potential to create an average of 300 direct full-time equivalent jobs each year over its 20 to 25-year construction phase," Mr Dick said.
"Once the resort is complete, the proponent, Landmark Projects, estimates it will support 3750 direct full-time equivalent operational jobs and inject more than $360 million of tourism spending each year in the Townsville region.
"Subject to approvals, construction of stage one could start in 2022 and the resort could commence taking guests two years later.
Mr Dick said the coordinator-general would prepare draft terms of reference for the environmental impact statement and invite public comment.
He said Landmark Projects would then have to produce a comprehensive environmental impact statement considering all potential environmental, social, economic and infrastructure impacts.
Landmark is part of the Malasian Rimbunan Hijau Group, which has owned the site for some 25 years.
Rimbunan Hijau Group founder Tom Tiong and his wife bought the land as a potential tourism site and Tiong's daughter Sijia now heads the development project.