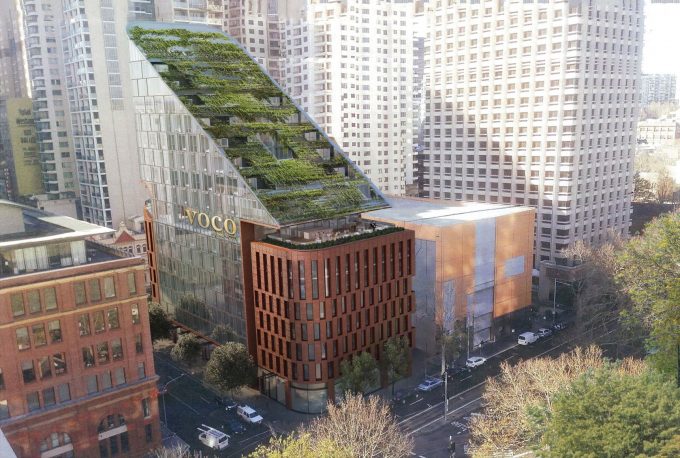 A spectacular 17-storey tower with "green waterfalls" across it's sloping roof will become IHG's fifth voco in Australia since the luxury boutique brand's global launch in June 2018.
Part of Linzhu Australia's 430 Pitt Street mixed-use development, the Sydney CBD property was originally envisaged as a Holiday Inn but has evolved into an upscale hotel with distinctive character.
Voco is characterised as "reliably different", featuring bold styling, informal service and bespoke touches.
Jinwen Lin, Chairman at Linzhu Australia, said: "After attending the voco launch event in Sydney, I immediately fell in love with the brand.
"I realised that voco was a perfect fit for the property in Sydney Central.  We look forward to adding another memorable and distinctive property to the voco portfolio.
"We are delighted to be able to add upscale, indulgent room features and facilities to the property for our guests for the complete voco experience."
Voco Sydney Central is set to open by 2020 and will encompass 301 guest rooms, an all-day restaurant and bar and guest gym.
Next for Melbourne
Singapore-based Next Story Group will debut its LinQ Hotels brand through a $45 million new-build hotel in Melbourne's Southbank in September.
The 16-storey, 162-room upper mid-scale property at 167 City Road will undergo a soft launch and complements the group's Next's Sage Hotel Melbourne at Ringwood and the Next Hotel Melbourne due to open in 2020.
"This latest addition to our hotel portfolio has a superb location, right in the heart of Melbourne's Southbank precinct," said Darren Edmonstone, CEO of Next Hotels & Resorts.
"We are excited about the opening of the LinQ Hotel in Melbourne, which is famous for its year-round calendar of social, sporting, arts and cultural events.
"Coupled with the unique value proposition of our LinQ Hotels brand, we are confident that our new property will be able to deliver strong trading performance."
Mr Edmonstone said Next, which operates 26 hotels in Australia, was looking at other potential deals in Australia, with Sydney being a "missing spot" in its portfolio.
Park saddles up
Australia's first Park Hotel in Melbourne will feature design inspired by the site's history as a gateway to the stables and livestock yards of Kirk's Bazaar.
The 23-storey Roxy Pacific property at 360 Little Bourke Street will feature 319 guest room, a lobby lounge, concept restaurant and roof top bar  designed by architecture and interior design practice Bates Smart.
Bates Smart director Brenton Smith said the interior features include "horse saddlery accents" and "blacksmith-inspired metal accents".
"The hotel takes cues from Melbourne's vibrant laneway culture, recognising the 'urban grit' of this former industrial neighbourhood and its surrounds," Smith said.
"The interiors complement the architectural approach, creating create a sensory experience for guests.
"The traditional food and beverage model has been challenged to create a space for an independent operator that will offer guests an authentic, local neighbourhood experience.
"We responded to the laneway context of the site and brought this element of Melbourne's café and street culture within the building.
"We also remodelled the conventional arrival experience to offer an inquisitive guest arrival journey.
"The ground floor plane is opened to encourage guests to walk through the relaxed food and beverage component before reaching reception for check-in."
The hotel is scheduled to open in late 2021 and will include a ballroom to accommodate functions.
New Lily for blooming Glen

Brisbane's multi-awarded The Glen Hotel, owned and operated by the Fitzgibbons family for more than 50 years, has unveiled its new signature restaurant, Lily.
The Eight Mile Plains venue will serve bespoke cocktails and Australian inspired-dishes, in a "space where city-style meets suburban eloquence".
"The Lily allows restaurant patrons to escape the ordinary, combining excellent food and service with privacy and intimacy for everything from a midweek meal to larger scale celebrations," said spokesperson Simona Varga.
The Glen Hotel and Suites, which features luxury guest rooms, heated outdoor pool and gym, was last year judged Best Redeveloped Hotel at the 2018 Queensland Hotels Association awards for excellence.