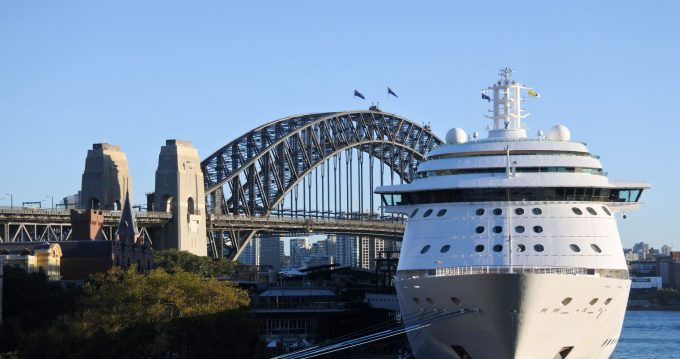 Growth in Australia's multi-billion-dollar cruise industry will stagnate without better berthing facilities, a leading industry body has warned.
TAA NSW chief Michael Johnson says limited port facilities, particularly in Sydney, could put the brakes on a travel phenomenon which saw one in every 17 Aussies – more than five percent of the population – welcomed aboard in 2018/19.
Mr Johnson and general managers of leading Sydney hotels were briefed recently by representatives from the $4.8 billion-a-year cruising industry.
"Whilst the industry has had substantial growth and success over the last ten years it is now starting to flatten out due to our ports being fully occupied throughout the summer season with no real solution in sight," he said.
"The development of new berthing facilities in Sydney remains the most urgent infrastructure priority for the cruise sector and it is crucial for our hotels as well.
"We look forward to further announcements on the NSW government's Cruise Development Plan."
Hotel executives were briefed at the Langham Hotel by the president of Carnival Australia and P&O Australia and Chair of Cruise Lines International Association (CLIA) Australasia, Sture Myrmell.
They heard that cruising in Australia, New Zealand and the South Pacific grew by just 0.1 percent from 2017, while there was a 3.4 percent increase in the number of Australians taking fly-cruise options overseas.
Cruising has enjoyed a decade of strong and sustained period of growth within the region, but industry leaders fear  a lack of infrastructure will stymie further development as ports reach capacity. 
A total of 1.35 million Australians took a local ocean cruise during 2018. Cruise ships were docked in Sydney for 357 days of 2018, providing 1.37 million passenger visitor days and 147,000 crew visit days, with a combined spend of more than $1.2 billion on food, drinks, retail and accommodation.
NSW still represented 53 percent of the Australian ocean cruise market, but its share fell against that of other states nationwide.
Despite the lower growth, Australia maintains the highest market penetration rate of the world's major established cruise markets.