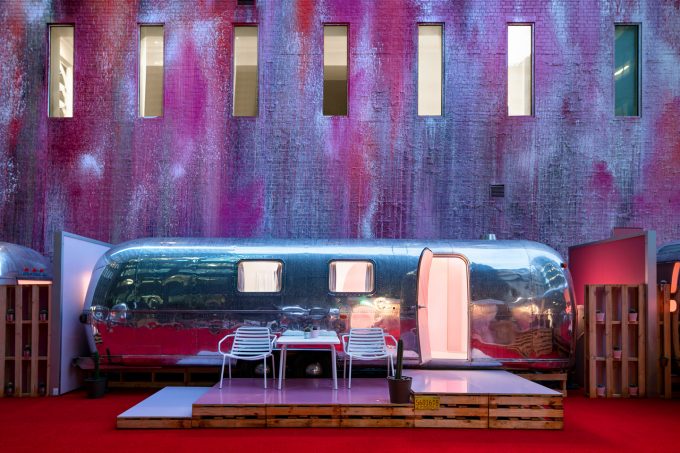 Novotel is threatening to close down a caravan park perched on a Melbourne rooftop, taking legal action over a name the global giant claims is too similar to its own.
In a move slated by high-profile advertising expert Dee Madigan as "brand bullying", the hotel group is claiming the park's title and concept are too similar to its own.
NOTEL owner James Fry claims his business brand is derived from the "not a hotel" concept, offering guests accommodation in six 1970s Airstream caravans on the roof top of a CBD car park.
"We are based around having an experience-based accommodation that is different in every way shape and form to a hotel," he told Channel Nine.
But lawyers for Novotel say the name is "deceptively similar" to that of the hotel group, claiming there is a "real and tangible danger that the average Australian consumer seeing or hearing the competing marks may be confused or deceived".
Legal documents also reportedly argue the brands "cover the same or similar services".
"We're a tiny little six-room caravan park in the CBD, up against a giant juggernaut of a corporation that have endless money to spend on this," said Fry, who will represent himself without the resources to pay for his own legal team.
Ms Madigan labelled the legal action as an example of "brand bullying", telling Channel Nine: "I wouldn't get (the brands) confused, no-one would get them confused.
"Every brand has got a right to protect itself, but Novotel means 'new hotel'. It's for people who like nice, clean, normal hotels.
"NOTEL literally means 'not a hotel'. These are caravans on top of a roof, so they're not going for the same target market."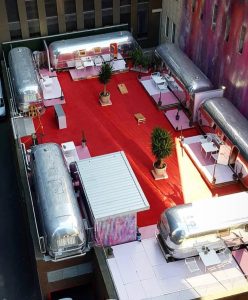 NOTEL consists of six 31-foot trailers, each featuring its own deck which opens onto a communal area and offering views over the Melbourne CBD and Flinders Street.
It was created by Fry three years ago as the deliberate antithesis of a hotel, although boutique hotel developments have increasingly encroached on the bespoke accom space.
Luxury extras include Sheridan towels, virtual concierge services through iPad pros, organic bamboo bedding and complimentary local craft beer, bubbly, water and snacks.
"If you are after a traditional hotel or you want everything handed to you, then you'd best stay elsewhere," states the NOTEL website
"This is NOT a hotel. If you are a guest, you are going to have to work out how exactly to get in."
It continues: "We will give you a clue – it's a single door that's hidden near a coffee shop. There is no concierge and guests are emailed or texted a code for their smart phone that they can swipe to get in!"
According to Nine News, The Trademark Office initially gave the name the green light, however, this was challenged by Novotel.
Fry says he has already spent "tens of thousands of dollars" in legal fees to fight the French multinational.
"If we lose this, we have to pay their costs as well," he said.
"I don't know how much that could be. A million dollars? Half a million? Who knows?"