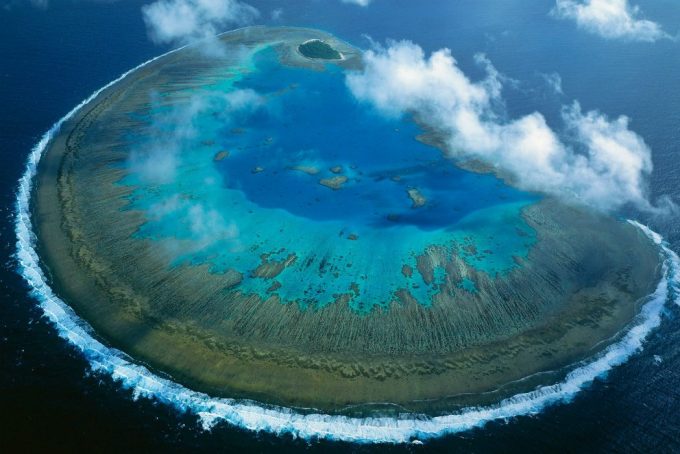 An underwater hotel will deliver the ultimate Great Barrier Reef experience – three metres below the ocean surface at Queensland's Lady Musgrave Island.
Set in the lagoon surrounding the island, the sustainable hotel will be part of a 36 metre, three-level pontoon anchored to the sea bed and operated by Lady Musgrave Experience.
State tourism minister Kate Jones says the pontoon will house a reef observatory, water slides and a sun deck along with the floating hotel and is expected to draw an extra 16,000 visitors to the region each year, generating more than $1.8 million in visitor expenditure.
"This pontoon is a game-changer for Lady Musgrave and the Great Barrier Reef and will create a whole new way for visitors to experience the island and the region," she said.
 "It will host an underwater observatory with UV lighting, so visitors can experience the reef at night and have upper decks for diving, snorkelling and environmental data collection."
The pontoon will provide accommodation for up to 24 people and is part-funded through a $1 million government grant from Queensland's Growing Tourism Infrastructure Fund.
Bedrooms will have 360-degree underwater views of the reef, while upper decks will cater for diving, snorkelling and environmental data collection.
While underwater hotels around the world tend to command eye-watering nightly charges, the Lady Musgrave Experience is designed with a more modest footprint.
Tanzania's Manta Resort costs around $1500 a night for an underwater room and The Muraka Conrad Maldives Rangali Island will set visitors back up almost $12,000 for its luxury offering, but prices for the Queensland hotel are expected to sit at around $550 a night.
The pontoon will be made from recycled materials, including thousands of recycled milk bottles, and when completed is expected to support around 14 jobs.
Lady Musgrave Experience managing director Brett Lakey said it would increase the international tourism appeal of the island, driving benefits throughout the region.
"This development will ensure the southern area of the Great Barrier Reef is an attractive gateway for visitors, providing some of the best tourism experiences on the reef," he said.
Construction is expected to commence in August with plans to open to the public in April 2020.