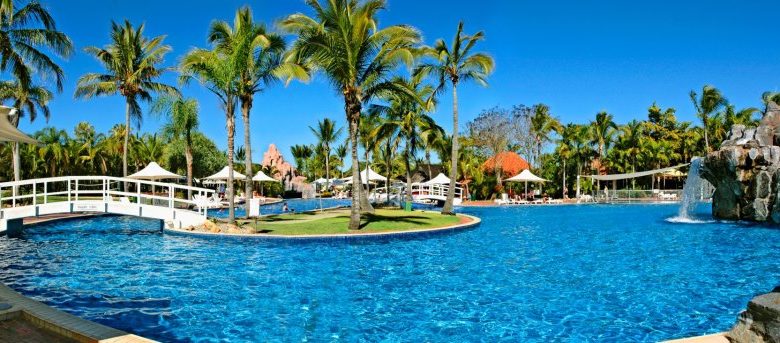 While two Queensland islands recently revealed multi-million-dollar transformations, one former luxury resort has been revealed as shockingly run down.
New Youtube drone footage by mantasystems shows the Capricorn International Resort in Yeppoon, a former jewel in the crown of Queensland's Great Barrier Reef developments, in a derelict state after three years in planning limbo.
Operator Mercure quit the already rundown resort in 2016, and despite repeated promises of government intervention and redevelopment by owners the Iwasaki Group, its fate remains undetermined.
The drone video shows empty accommodation buildings surrounded by weeds and rubbish and the former largest lagoon pool in the southern hemisphere empty and crumbling.
Originally developed by Japanese businessman Yohachiro Iwasaki, the resort boasted accommodation suites, bars and restaurants, a Japanese garden and restaurant, and a world-class golf course all nestled within 9000 hectares of bush.
Despite several meetings between Iwasaki's grandson Yoshitaro, who now owns the business, and Queensland Premier Annastacia Palaszczuk, plans for a $600 million redevelopment have stalled.
"A major redevelopment of the existing site is proposed by Iwasaki," the resort website says. "This development will include tourism, residential and retail land uses and is expected to occur over the next ten years. ​
"The first stage of securing development approval is the submission of a draft environmental impact statement to the Queensland Government in late 2018."
The Department of State Development told news.com.au it was yet to receive a draft statement from the Iwasaki Group and the department extended the deadline to submit to June 1 next year.
While several island resorts along the Queensland coast sit crumbling following cyclonic damage and economic issues, the Whitsundays' Hayman and Daydream islands have recently reopened to reveal spectacular rejuvenations, signalling hopes of a revival for other former tourism icons.
Great Keppel Island, South Molle Island and Dunk Island all boast famous former resorts in need of significant TLC.
Sam and Kerri Anne Charlton, the owners of Bedarra Island between Townsville and Cairns, say insurance companies, banks and government restrictions make running an island resort difficult.
"The resorts are absolutely stunning. It's so sad there's a large volume of them that haven't reopened," Sam told News.com.
"Particularly for insurers, I think they base a lot of risk and their models on perception of climate change."