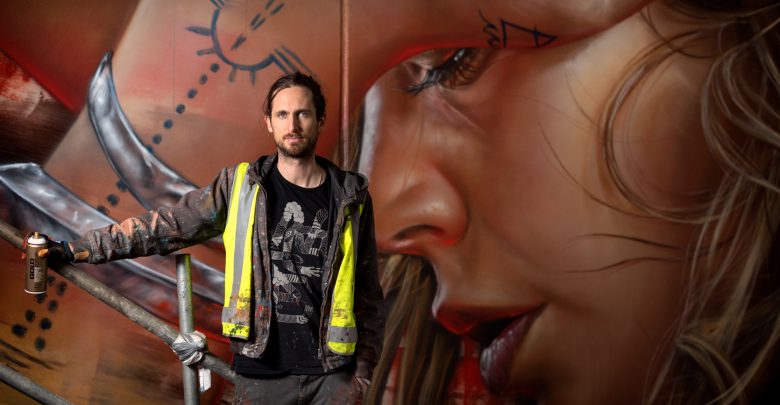 Accor has announced its new Art Series hotel in Perth will be named after one of Australian street art's most influential big wall painters.
Matt Adnate is an artist who creates large-scale portraits with spray paint. The 38-year-old's works portraying Indigenous people have won international acclaim, his famous depiction of Adam Goodes selected as a finalist in the world's richest portrait competition, the $150,000 Doug Moran National Portrait Prize.
The Adnate Perth follows hot on the heels of Art Series' latest property, Brisbane's The Fantauzzo, and will feature one of the world's tallest murals as the first Art Series hotel dedicated to street art.
The $90 million, 250-room George Atzemis-designed luxury boutique hotel will open in Perth's CBD in October and will anchor a newly-built 27-storey tower at 900 Hay Street in the city.
The WA hotel brings the Art Series portfolio to nine, with each property named after a contemporary Australian artist and created as an homage to their work and influence.
A 27-storey mural on the west-facing side of the hotel is the largest artwork Adnate has painted on a building and, once completed, will feature faces which represent the cultural history and community of Perth.
The property will also include a 50-metre-long laneway mural featuring multiple portraits created by the artist in collaboration with a local Indigenous artist, and a large-scale interior staircase mural.
"I see this hotel as a beautiful canvas to tell a story about Perth's cultural and community connection through portraiture and traditional elements," Adnate said.
"My mega mural will feature three large-scale portraits. It will represent the past through the cultural representation in the subject's dressing elements, the present with contemporary faces, and the future as the subjects are the youth of today.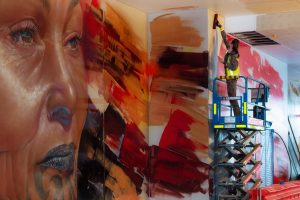 "What excites me most about this collaboration with Art Series is the opportunity to capture the stories and emotions of my subjects and to share them with a new audience in the west.
"I've always held a personal connection towards the First Nation people I paint. Whether it be a connection to country or a strong emphasis on spirituality, I believe we have a lot to learn from these people."
Two original canvases and up to 650 reproductions of 30 of the artist's most recognised works from around the world will adorn the walls and halls of the 250-room hotel development by George Atzemis.
"To have an Art Series hotel dedicated to showcasing my work is an honour," he said.
"In more ways than one, this collaboration with Art Series is a high point in my career and I cannot wait for the doors to open in October," he concluded.
Accor Chief Operating Officer Pacific, Simon McGrath, said The Adnate is destined to become an iconic landmark in Perth's CBD.
"The Adnate's mega mural will face the city centre for all to enjoy, and we are thrilled to announce Matt Adnate as the namesake artist for our ninth Art Series hotel in Perth," Mr McGrath said.
"Matt is a next generation artist who reflects the expansive view on Australian art. His unique artistic style and experience with painting large-scale murals in main cities around Australia and the world made him the ideal namesake artist for the scale and design of our newest Art Series hotel in Perth.
"This hotel heralds the arrival of the Art Series brand in Western Australia and demonstrates our commitment to growing this iconic Australian hotel brand – Australia's only boutique hotel brand creating art inspired experiences for guests."
The Adnate will also feature a restaurant serving Mediterranean-style food, a cocktail bar, gym, function room and a first floor pool deck directly above Hay Street.