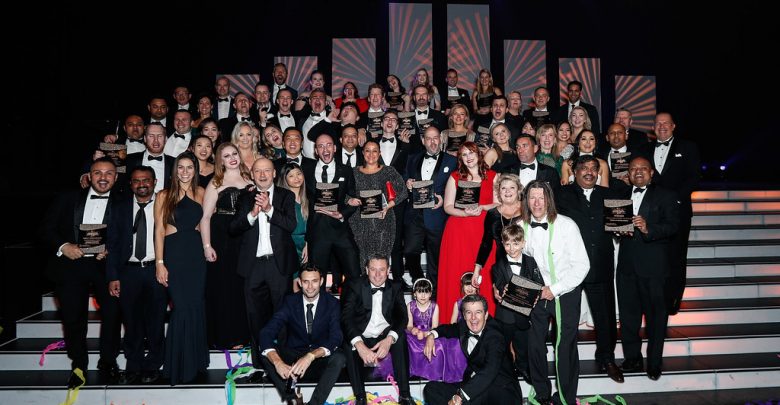 NSW celebrated its stellar hotel performers at the glittering TAA Awards in Sydney last week.
Some 750 award hopefuls and industry figures packed the event, and while host Catriona Rowntree failed to get her party poppers firing, there was no such difficulty for the rowdy winning tables at the Star Sydney gala.
The cream of the state's hotel industry knows how to party, and those celebrations were topped only by entertainers Furnace And The Fundamentals, whose set redefined 'high energy' and brought most of the room to its feet.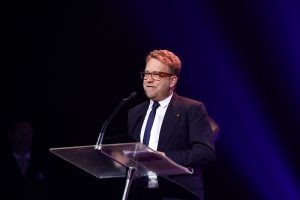 Among the biggest winners was Emirates One&Only Wolgan Valley, the Blue Mountains sustainability stalwart inducted into the TAA NSW hall of fame in 2019 for its decade-long dedication to excellence.
Sydney's the Darling Hotel Sydney edged out local rival the Park Hyatt Sydney to win Deluxe Hotel of the Year, while Regional Superior Hotel of the Year went to MGallery by Sofitel's Fairmont Resort and Spa Blue Mountains, with an honourable mention for runner up Oaks Santai Resort Casuarina.
Metropolitan Superior Hotel of the Year was taken out by Rydges World Square, and Mid-Range Hotel of the Year went to Holiday Inn Sydney Airport, with Atura Albury highly commended.
TAA NSW chair Antony Page said 2019 marked a "new era" for the organisation, with a new board, CEO and swish central Sydney offices.
Outlining TAA NSW's priorities as representing and advising members, securing lower energy prices sector-wide, addressing skills shortages and pushing for greater short-stay regulation, he took a subtle swipe at the state government over its 35 million cut to the 2019 Destination NSW budget.
"As an industry we have benefited considerably from the state government's investment in the visitor economy which has seen 47 percent growth since Destination NSW was formed in 2011. This growth is a strong testament to NSW government support and funding," he said.
"The level of government investment – not only for tourism but for transport infrastructure – is fundamental to supporting confidence in current and planned accommodation."
While recognising high-achieving venues, the TAA NSW Awards also celebrate the sector's highest individual achievers across categories ranging from Chef of the Year (Francesco Mannelli of Four Seasons Hotel Sydney) to Housekeeper of the Year (Karolina Sadalska of Sofitel Sydney Darling Harbour).
Mr Page described the awards as "an opportunity to celebrate the 'best in world-class' product we have here in NSW…and the committed and passionate people who bring that product to life".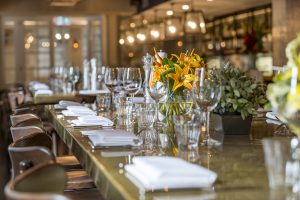 He said: "Once again, according to the judges, there were many very tightly contested categories – a strong testament to the quality of our industry."
The best hotel eateries were also recognised, with Sydney's Tank Stream Hotel winning Brasserie/Cafe of the Year for Le Petit Flot, Platform 818 Mercure Sydney crowned Restaurant Of The Year (mid-range – superior hotels) and Altitude Restaurant Shangri-La Hotel, Sydney named Restaurant of the Year (deluxe hotels).
The full list of winners, chosen from more than 300 nominees across the state's multi-billion-dollar accommodation industry, is:
BEST INNOVATION PROJECT
WINNER The Darling Hotel
OUTSTANDING ACHIEVEMENT IN TRAINING
WINNER The Langham, Sydney
OUTSTANDING COMMUNITY CONTRIBUTION
WINNER Atura Blacktown
HIGHLY COMMENDED Radisson Blu Plaza Sydney
BEST ENVIRONMENTAL PRACTICES
WINNER Crowne Plaza Hunter Valley
WORKPLACE HEALTH AND SAFETY HOTEL OF THE YEAR
WINNER Holiday Inn Darling Harbour
CONFERENCE AND EVENTS VENUE OF THE YEAR
WINNER Fairmont Resort and Spa Blue Mountains, MGallery by Sofitel
HIGHLY COMMENDED InterContinental Sydney
ENGINEER OF THE YEAR
WINNER Matthew Willox Holiday Inn Old Sydney
HIGHLY COMMENDED Viran Yapa Sydney Harbour Marriott Hotel
FINANCE TALENT OF THE YEAR
WINNER Pedro Porto Sofitel Sydney Darling Harbour
HIGHLY COMMENDED Matthew Woods Meriton Suites
REVENUE/YIELD TALENT OF THE YEAR
WINNER Elaine Fernandez The Star Sydney
HIGHLY COMMENDED Ben Salter Stamford Plaza Sydney Airport
FOOD AND BEVERAGE TALENT OF THE YEAR
WINNER Maryline Beroud Park Hyatt Sydney
HIGHLY COMMENDED Andrew Hobbs The Star Sydney
CONFERENCE AND EVENTS TALENT OF THE YEAR
WINNER Jessica Johnson Rydges World Square
HIGHLY COMMENDED Courtney Mannes Novotel Sydney International Airport
MARKETING TALENT OF THE YEAR
WINNER Melinda McCrone Crowne Plaza Terrigal Pacific
HIGHLY COMMENDED Sasha McAlister Holiday Inn Sydney Airport
SALES TALENT OF THE YEAR
WINNER Tim Birley PARKROYAL Darling Harbour
HIGHLY COMMENDED Fiona Okpalogu Rydges Newcastle
HUMAN RESOURCES TALENT OF THE YEAR
WINNER Christianne Nejm Sofitel Sydney Darling Harbour
HIGHLY COMMENDED Thomas Fitzgerald The Langham, Sydney
ROOMS DIVISION TALENT OF THE YEAR
WINNER Deepamita Dutta Meriton Suites Kent Street
HIGHLY COMMENDED Ramneek Kaur Sir Stamford at Circular Quay
EMPLOYEE EXCELLENCE IN SERVICE
WINNER Roman Bhandari InterContinental Sydney Double Bay
HIGHLY COMMENDED Francisco Cervantes Sofitel Sydney Darling Harbour
CONCIERGE OF THE YEAR
WINNER Jonathan Fambart Park Hyatt Sydney
HIGHLY COMMENDED David Reynolds Sir Stamford at Circular Quay
HOUSEKEEPER OF THE YEAR
WINNER Karolina Sadalska Sofitel Sydney Darling Harbour
HIGHLY COMMENDED Tarsha Whiteman Fairmont Resort and Spa Blue Mountains, MGallery by Sofitel
CHEF OF THE YEAR
WINNER Francesco Mannelli Four Seasons Hotel Sydney
HIGHLY COMMENDED Shlomi Palensya Park Hyatt Sydney
HOTEL INDUSTRY RISING STAR
WINNER Melissa Davies The Langham, Sydney
HIGHLY COMMENDED Katie Collings Novotel Sydney International Airport
RESTAURANT OF THE YEAR (MID-RANGE – SUPERIOR HOTELS)
WINNER Platform 818 Mercure Sydney
HIGHLY COMMENDED Circa 1876 The Convent Hunter Valley
RESTAURANT OF THE YEAR (DELUXE HOTELS)
WINNER Altitude Restaurant Shangri-La Hotel, Sydney
HIGHLY COMMENDED Darley's Lilianfels Resort & Spa
BRASSERIE/CAFE OF THE YEAR
WINNER Le Petit Flot Tank Stream Hotel Sydney
BAR OF THE YEAR (MID-RANGE – SUPERIOR HOTELS)
WINNER Sydney Brewery Rydges Sydney Central
HIGHLY COMMENDED The Lovedale Bar Crowne Plaza Hunter Valley
BAR OF THE YEAR (DELUXE HOTELS)
WINNER Alibi Ovolo Woolloomooloo
HIGHLY COMMENDED Observatory Bar The Langham, Sydney
HEALTH CLUB AND SPA FACILITIES OF THE YEAR
WINNER Ubika Spa Fairmont Resort and Spa Blue Mountains, MGallery by Sofitel
HIGHLY COMMENDED The Darling Spa The Darling Hotel
REDEVELOPED/REFURBISHED HOTEL OF THE YEAR
WINNER Novotel Sydney International Airport
HIGHLY COMMENDED Rydges Campbelltown
APARTMENT/SUITE HOTEL OF THE YEAR
WINNER Fraser Suites Sydney
HIGHLY COMMENDED SKYE Suites Sydney
MID-RANGE HOTEL OF THE YEAR
WINNER Holiday Inn Sydney Airport
HIGHLY COMMENDED Atura Albury
METROPOLITAN SUPERIOR HOTEL OF THE YEAR
WINNER Rydges World Square
REGIONAL SUPERIOR HOTEL OF THE YEAR
WINNER Fairmont Resort and Spa Blue Mountains, MGallery by Sofitel
HIGHLY COMMENDED Oaks Santai Resort Casuarina
DELUXE HOTEL OF THE YEAR
WINNER The Darling Hotel
HIGHLY COMMENDED Park Hyatt Sydney
HALL OF FAME REGIONAL DELUXE HOTEL OF THE YEAR
INDUCTEE Emirates One&Only Wolgan Valley