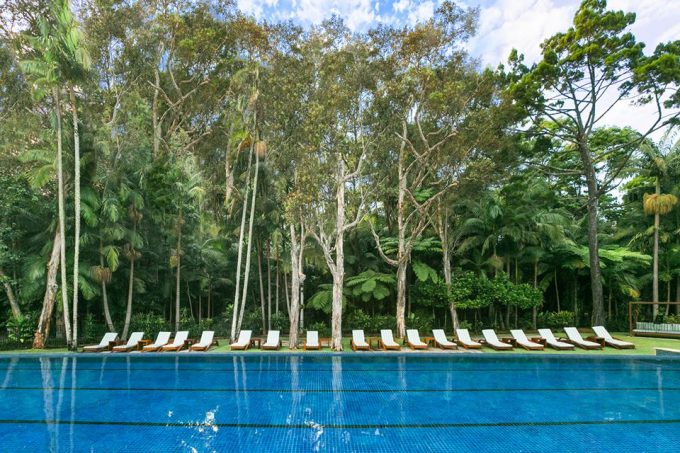 Syrian billionaire Ghassan Aboud has spent $45 million to acquire the landmark Byron Bay resort developed by retail king Gerry Harvey.
The Byron at Byron, a 92-suite eco-resort on the NSW North Coast developed by Harvey in 2005 , features 18 hectares of subtropical rain forest and is considered one of the nation's premier resorts according to CBRE Hotels.
It was jointly owned by Mr Harvey and a Harvey Norman Holdings subsidiary and listed for sale in May.
Mr Aboud first entered the Australian market in 2016 when he established the Crystalbrook Collection and is reportedly looking to invest $1 billion in resorts Down Under.
Current properties within his luxury portfolio include the Cairns trio of Riley, Bailey and the soon-to-be-complete Flynn, as well as Sydney's trail-blazing boutique offering Little Albion Guest House.
Buying into Sydney Vibe
Sydney's yet-to-open Vibe Hotel at Darling Harbour is up for sale.
The 4.5-star Sussex Street property, scheduled to open in September, features 145 guest rooms, a restaurant, rooftop bar and heated swimming pool with city and Darling Harbour views.
The guest rooms feature an array of New York-inspired amenities including curved rainfall showers, embedded window day lounges and retro bathroom fixtures.
The WMK-designed hotel has been developed by Sydney's Icon Oceania, and will operate under a management agreement with TFE Hotels.
Icon Oceania director Nico Tjen, said, "Vibe Darling Harbour presents a brand new hotel, in an asset class where opportunities are few and far between.
"We identified Darling Harbour precinct as an area of further growth due to the significant public and private investment pipeline over the coming years.
"The hotel was designed with excellence in mind and will make a lasting impression on the Sydney accommodation sector. "
Sales agents JLL Hotels & Hospitality Group predict strong interest in the sale due to a dearth of purchase opportunities in the Sydney hotel market.
The Vibe is being offered for sale via expressions of interest closing 12 September.
Big wall making big impression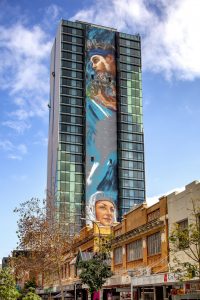 One of the world's tallest murals is taking shape on a wall of Perth's under-construction Art Series hotel The Adnate, due to open in October.
The 25-storey mural, by the hotel's namesake artist Matt Adnate, will stand just seven storeys shorter than the world's tallest mural in Toronto.
Adnate's monumental works include grain silo portraits and a 20-storey housing complex feature in Melbourne's Collingwood, until now the tallest mural in the Southern Hemisphere.
The Adnate's new mural will feature three large-scale portraits – a Noongar man, an Indian woman and a Mediterranean woman – all created with spray paint as a depiction of Perth's multicultural history and culture.
"I'm taking different faces to create a story that runs the whole way down the mural," said Matt.
"Each face tells a different history and background. It will depict the past through the cultural representation in the subject's dressing elements, the present with contemporary faces, and the future as the subjects are the youth of today."
Adnate will also be collaborating with a local Indigenous artist on a 50-metre-long exterior laneway mural and, inside the hotel, is contributing a mural above the hotel's main staircase.
Two original canvases and up to 650 reproductions of 30 of Matt's most recognised works from around the world will feature within the Accor-owned Art Series hotel.
The Adnate will be the first of the art hotels dedicated to street art and according to Accor's Australia chief Simon McGrath, is destined to become an iconic landmark in Perth's CBD.
"You won't need to book a stay to enjoy Matt's exterior murals," Mr McGrath said. "His soaring Mega Mural on the entire east-facing side of the hotel faces the city for all to enjoy."