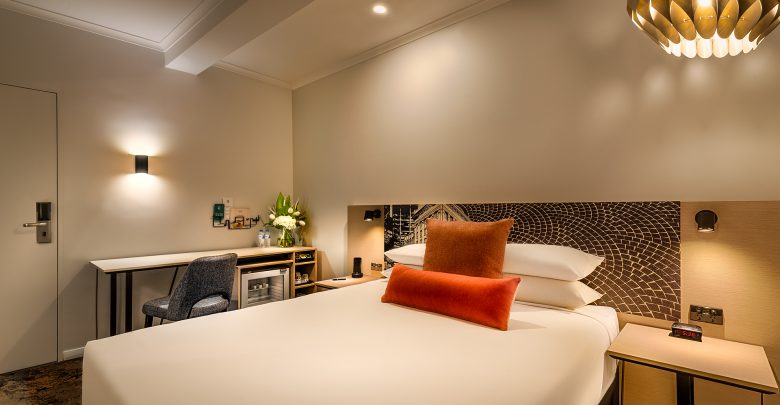 Melbourne's Quality Hotel Batman's Hill on Collins recently completed a six-month, $1.75 million renovation and presented guests with stunning upgrades to all 190 rooms.
This project is part of a wider initiative which will see building improvements continue into 2020.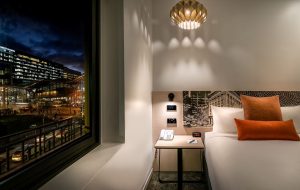 Highlights of the new guest room design include an art deco hanging light and wooden detailing in the bedrooms and living spaces, along with an etching of the hotel's façade within the bedheads.
Glamorous black tapware in the bathrooms accentuates the tastefully created accommodation aesthetic.
Glamour is important but not everything, therefore inspired environmentally friendly initiatives have also been introduced. Branded shower timers are gifted to guests in all rooms to encourage water conservation and a house credit of $10 per room is given to guests who decline the daily housekeeping service. Guests are also encouraged to leave used soap in the room for recycling.
Hotel general manager Kevin Birchall said that the hotel team was proud to unveil the modernised rooms. "This exciting project demonstrates our commitment to providing our guests with quality, affordable accommodation in the heart of Melbourne and we have options to suit everyone, whether you're staying with us for business or leisure."
According to Kevin, this hotel's biggest point of difference is its variety of room types and star rating.
"We are spread across three separate but interconnected buildings and have a room suitable for all market segments and price points.
"They range from standard rooms (great for budget conscious travellers to premiere rooms (great for weekend leisure and corporate markets), and apartments (great for families; long stay guests and groups of friends)," he said.
What was the inspiration behind the design of this upgrade?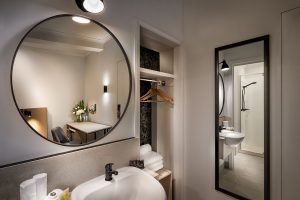 Kevin said: "We needed a quality level that would be acceptable to the corporate market as a lead-in room type. Before the upgrade, the rooms in the economy wing of the hotel were small and dated but now, we can offer a beautiful standard quality room. The floorplans were also cleverly re-designed to maximise space and light, with large reflective surfaces and light paint in the rooms.
"To top it off, we used black fittings for taps and switches to give a touch of modern elegance, and some accent colour soft furnishings. The bathrooms were made open plan, and by removing a small dividing wall we doubled the usable space for both bathroom and bedroom areas, with privacy only for the shower recess and the commode.
"Finally, we added desks for the corporate market and adjusted the layouts and furnishings of each room to queen beds for a consistently high product and de cluttered the floorspace to create more space."
What is your personal favourite refurbished feature? 
"I love the black highlights – taps and lamps, light switches and rims on the desk and mirrors. I think it really adds a modern stylish twist to our spacious and light guest rooms."
What was the most important thing to get right?
"The finish – it was exciting to bring all the individual design concepts together and see the main eye-catching elements like carpets and blinds complement all the separate fixtures and fittings."
What went well?
"We had great tradespeople, who put everything together and worked well with each other to meet tough deadlines."
What has the reaction been from staff and guests to the hotel refurbishment?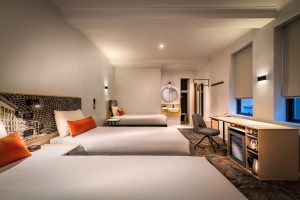 "Staff – the housekeepers love it because it all new and easy to clean. Ditto for the maintenance crew, and our front office team love that guests are so happy with the new rooms."
"Guests – The target market was corporate, and by lifting the standard we were able to sell to this market with positive results. Leisure (especially inbound leisure) guests also love the 'bang for your buck', as it is still very competitively priced for inner Melbourne."