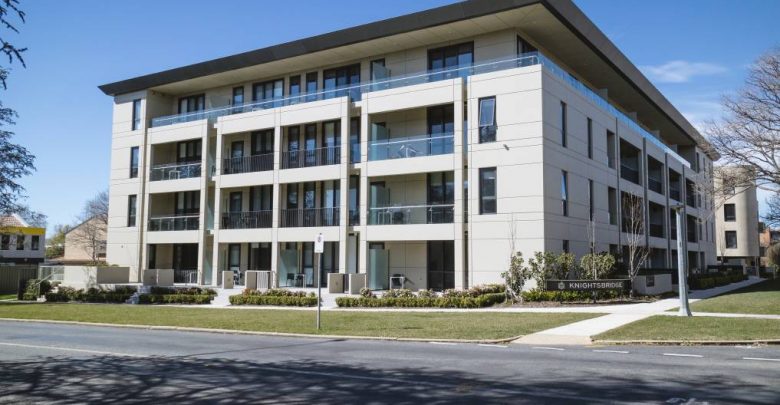 A peak accom body has moved to shut down a high-end apartment complex in Canberra's Kingston, claiming it is operating as a quasi-hotel without planning consent.
The Australian Hotels Association has asked the ACT government regulatory body Access Canberra to issue a 'controlled activity order' to the owners of Knightsbridge Canberra in an effort to force the Leichhardt Street property to cease trading.
According to The Canberra Times, lawyers for the association have alleged that the property group Quanton is using the land for a commercial purpose, despite regulations only allowing for residential use.
An ACT government spokesman confirmed Access Canberra was investigating the matter, but said it was not able to provide any further comment.
Knightsbridge Canberra, part of the Quanton portfolio owned by developer Josip Zivko, offers luxury serviced apartments and access to a gym, pool and meeting rooms.
In its application to Access Canberra, the hotel association's lawyer alleged the owners were using the land for a "commercial accommodation use" contrary to planning approvals and Crown lease conditions for the site.
In March 2015, the ACT government granted the owners a crown lease to use the land for "the purpose of multi-unit housing". The block is zoned for high-density residential use, which prohibits commercial accommodation uses.
AHA ACT general manager Anthony Brierley told the Canberra Times that repeated complaints to the government about the 2017-built complex had fallen on deaf ears.
"At the end of the day we felt like we were coming up against a brick wall, so this is the circuit breaker we think we need," he said.
"It seems to be quite flagrant – it's clearly a commercial use. For some reason, the government and the regulator have not been of that opinion and it kind of bewilders us."
The issue of residential units being run as quasi hotels is one Australia's national accom bodies have long railed against, Tourism Accommodation Australia chief Michael Johnson calling on the states and territories to regulate over a proliferation of "'quasi-hotels' springing up due to unregulated short-term letting".
The Accommodation Association of Australia describes unregulated short lets as "one of the greatest challenges our sector is facing".
Mr Brierley told the Canberra Times his members were concerned that allowing Knightsbridge to continue operating would set a precedent which meant "any building could become a hotel", without being subject to relevant scrutiny.
"Hotel planning is a rigorous and involved process, but one of the positives is the certainty – you know where they can be built so you know where competition might pop up.
"That this property is allowed to exist, it completely underwrites that. The same goes for residents, they could have a hotel pop up anywhere, even in their own building."