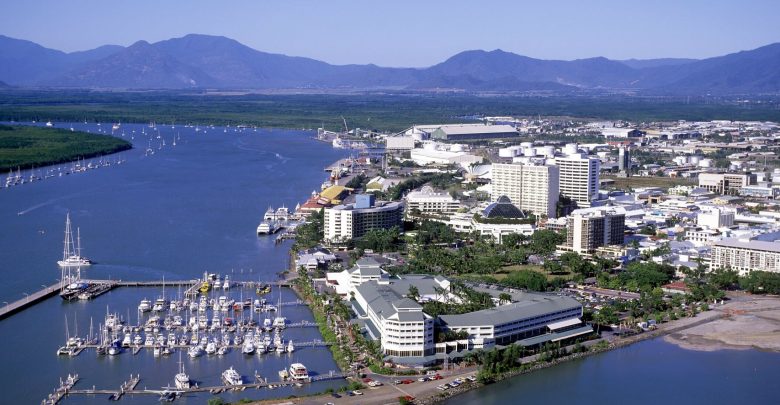 Editor's Note: This article was previously accompanied by a stock image which was not intended to represent, and does not depict, any entity mentioned in the article.
A tourist who was sexually assaulted and stabbed in the neck at a Cairns backpackers hostel is lucky to be alive, police say.
The 26-year-old Chilean woman arrived with a friend in the Far North Queensland tourist town just three days before she was stabbed in a communal area of the busy Geckos backpackers at 11am on Monday.
Police allege Raynard Gregory Moodoonuthi, a 36-year-old staff member from the Northern Territory, approached and inappropriately touched the holidaymaker.
When she called for help, police claim the man bashed her before grabbing a kitchen knife and stabbing her in the neck as she attempted to escape.
Detective Senior Sergeant Ed Kinbacher said the victim's injuries were "very significant" and described her survival as a "pure fluke".
"The stab wound, we allege, hits in the upper neck and penetrates into the body," he told the ABC.
"It just merely — by mere millimetres — missed the major arteries that were in the area."
Police chased the alleged attacker as he fled the hostel, pursuing him through the Cairns showgrounds before arresting him almost 2km away.
He will face Cairns Magistrates Court on Tuesday, charged with attempted murder, sexual assault and assault occasioning bodily harm.
Two nurses who were staying at the hostel and followed the victim onto the street to tend her injuries were praised by police.
"These two NSW nurses, who were up here on holiday, saw the victim running from the scene and gave first aid despite the risk to themselves with the alleged offender still in the vicinity," Detective Sergeant Brad McLeish told The Cairns Post.
The victim remains in hospital following surgery and her family has been contacted.
"Clearly this is a psychologically and physically scarring incident which she'll carry for some time," DSS Kinbacher told the ABC.
"This is an awful offence — a young woman who just arrived in Cairns, here to enjoy what this community offers, and within a short period of time — no fault of her own — she's finding herself with a life-threatening injury through a stupid act of violence."
Image Credits: © Adobe Stock