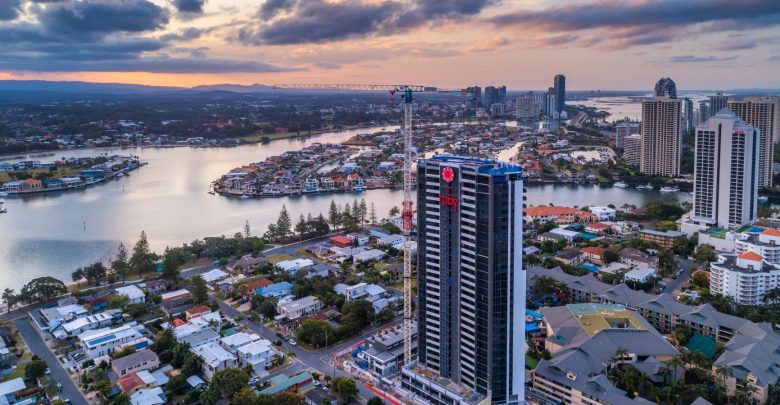 Apartment buyers caught up in the Ralan Group collapse are being prepared for "very poor outcomes" as the extend of the company's debt is revealed.
Administrators say there is over $500 million owed across the group – more than half in unsecured loans to buyers in the $2 billion Gold Coast Ruby and Sapphire accommodation projects and The Orchid development in Arncliffe, Sydney.
Ralan has a pipeline of over 3,000 residential units, most in the construction or pre-sale stage, and more than 600 accom rooms. While administrators remain in control, business will proceed as usual for its accommodation assets, with existing bookings to stand and future bookings taken.
The first building in its four-tower flagship project, the $1.4 billion Ruby Collection at Surfers Paradise, opened last November as family-friendly holiday accommodation boasting a range of "superb" short-stay apartments with "spectacular beach and hinterland views".
Construction has not begun on the other towers, with some buyers reportedly owed between $70,000 and upwards of $100,000 for deposits paid on apartments in towers two and three.
At a packed first creditors meeting in Sydney on Friday, administrators briefed more than 1000 people looking to understand what would become of their deposits, many of which were organised via "side agreements".
Administrators Grant Thornton revealed there were close to 1,800 creditors whose unsecured apartment deposits had been used by the developer to pay its expenses. The majority agreed to release their deposits to Ralan through the side agreements on the promise of annual returns of 15 percent personally guaranteed by group founder William O'Dwyer.
Some creditors have alleged they were owed as much as $500,000 in unsecured deposits on their Sydney and Gold Coast off-the-plan purchases.
"There is a massive shortfall of $277 million in the trust accounts from the deposits released, by agreement, with Ralan," joint administrator Said Jahani told AFR Weekend.
"There's only a couple of million in these trust accounts. People should prepare themselves for very poor outcomes."
All these buyers now rank as unsecured creditors behind Ralan's secured lenders, which according to The Urban Developer include Hutchinson, Westpac, Wingate and Balmain Corporation.
Jahani confirmed the administrators had notified ASIC (the Australian Securities & Investments Commission) of their appointment and investigations.
"We have received some questions around the legality of the side agreements regarding purchaser's release of deposits on pre sale contracts. Ralan has been offering these side agreements for a number of years," he said.
"Our investigations will look at the action of the director, William O'Dwyer, and whether he breached any of his duties."
While work on Ralan's 318-apartment Sydney The Orchid development has been put on hold, Jahani says the administrators are "confident Arncliffe will be finished – but likely delayed" as new funding is sourced.