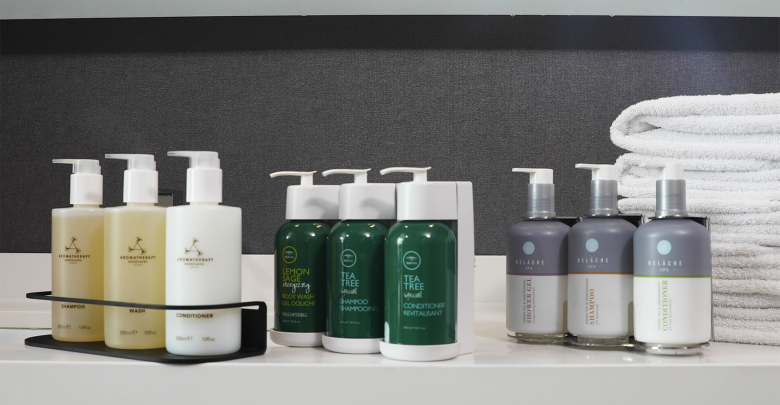 The days of bathrooms miniatures look to be numbered, with Marriott this week following IHG's lead in announcing it will bin all single-serve amenity bottles.
The world's largest hotel group will end the use of shampoo, bath gel and conditioner miniatures at its more than 7,000 hotels worldwide by 2020.
It follows July's announcements from the 5,600-property IHG group of a transition to larger recyclable bulk amenities.
Marriott says the switch to stand alone and wall-mounted pump-top dispensers will reduce its annual plastic usage by 30 percent, preventing some 500 million bottles per year going to landfill – equating to about 1.7 million pounds of plastic. Each pump-top dispenser will contain the same volume of product as around 11 tiny bottles.
The move by such a dominant industry player reinforces the idea that even the luxury market is ready to accept the argument for bulk amenities in its bathrooms.
Arne Sorenson, president and chief executive of Marriott International, described reducing the group's environmental impact as "a huge priority".
"This is our second global initiative aimed at reducing single-use plastics in just over a year, which underscores how important we believe it is to continuously find ways to reduce our hotels' environmental impact," he said.
"Our guests are looking to us to make changes that will create a meaningful difference for the environment while not sacrificing the quality service and experience they expect from our hotels."
The announcement expands on the company's 2018 initiative to switch single-use shower toiletry bottles to larger bottles with pump dispensers in five brands: Courtyard by Marriott, SpringHill Suites, Residence Inn, Fairfield by Marriott and TownePlace Suites.
Four of Marriott International's brands, Aloft Hotels, Element by Westin, Four Points and Moxy Hotels, had already implemented the pump-dispenser concept, while AC by Marriott is on its way to making the change.
Denise Naguib, Marriott International's vice president of sustainability and supplier diversity, told the Huffington Post: "Since we adopted this program in North America in early 2018, we continue to receive feedback from our hotel owners and general managers that consumers are happy to be using less plastic and contributing less waste to landfills."