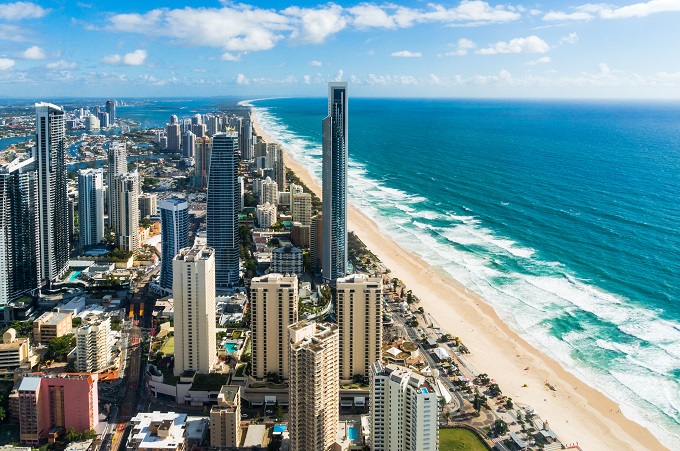 Branding the Gold Coast 'Australia's favourite playground' is prompting a surge in high-spending tourists, the city's tourism chief claims.
A survey conducted for Destination Gold Coast found more than half of respondents associated the Gold Coast with the term 'Australia's playground' and more Australians are now considering visiting the city.
The family-centric campaign, run in partnership with Tourism and Events Queensland and the Gold Coast theme parks, has coincided with tourism growth figures which put the Gold Coast ahead of every other Australian tourism hot spot, including Sydney.
The Gold Coast saw a 17 percent rise in domestic overnight visitors to a record four million in the year to March, with overnight expenditure growing by 22.6 percent to top $3.6 billion for the year. Sydney and Perth were the next best performers at 16 percent.
Destination Gold Coast CEO Annaliese Battista said: "The first marketing campaign – 'Australia's favourite playground' – resulted in an estimated $20 million in economic return for the city and a bumper Easter holiday period for operators.
"More recently, we re-doubled our efforts and launched a winter tourism push to 'come and play' in Australia's favourite playground in key visitor source markets.
"That's a total marketing investment of more than $5 million to drive visitation and spend for the Gold Coast by ensuring we remain top-of-mind for families year-round.
"The survey data clearly shows that we have been able to influence visitor consideration for the destination by capitalising on brand momentum to leverage emotional drivers that champion priority experiences and activities to highlight core strengths – our beaches, relaxing by the pool, casual dining options, theme parks and the spectacular hinterland.
"Those who recalled the campaign, particularly high-spenders travelling with children, were more likely to consider visiting the Gold Coast in the next six or 12 months."
Accommodation figures for July show the Goldie maintaining the 75 percent occupancy rates it achieved in the follow up to last year's Commonwealth Games. It also tracked ahead of flat national growth rates, with the average daily rate increasing by 3.5 percent to $192 and revenue per available room rising by 4 percent.
Battista said the survey found 58 per cent of people surveyed about travel plans indicated they were considering the Gold Coast for a holiday in the next two years.
Perceptions of the southern Queensland region had also improved, with 44 percent of people and 57 percent of families, recording a positive change in opinion about the Gold Coast.
Accor Hotels, which partnered with tourism organisation on the winter campaign, saw a rise of 43 percent year-on-year in leisure bookings through the off-season.
"The domestic family market represents a large, growing and high-value market segment for tourism operators on the Gold Coast and this campaign proved to be a great success for our Peppers, Mantra and BreakFree properties on the Gold Coast," said Accor's Pacific CEO, Simon McGrath.
"It approached destination marketing with boundless imagination, strategically capitalising on the Gold Coast's beaches, theme parks, entertainment and adventure offerings extremely well, which are all proven motivators for family tourism."