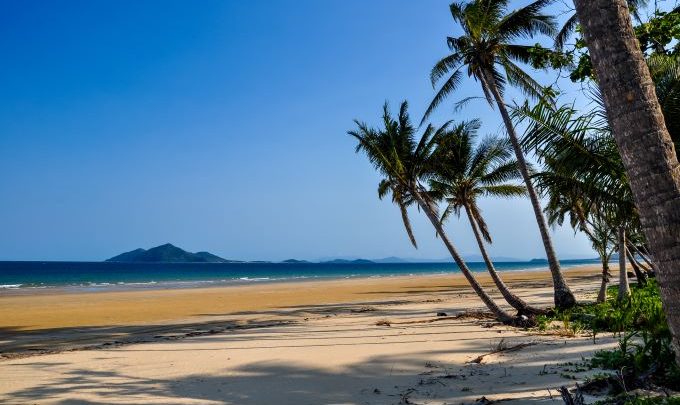 One of the nation's best-loved resorts has sold for $32 million to  investors vowing to restore the ruined shell to its former glory.
Dunk Island, the Great Barrier Reef resort damaged by Cyclone Larry in 2006 and virtually destroyed by Cyclone Yasi in 2011, has been snaffled by Australian-owned investment group Mayfair 101.
Mayfair has also bought up to 200 properties for some $150 million in Mission Beach, a 20-minute boat from the island, with a master plan to turn the region into "Australia's tourism mecca".
Managing director James Mawhinney told the ABC said the company intended to pump $1.6 billion dollars into the Cassowary Coast over the next 15 years.
He said construction of multiple projects such as camping sites, family-style resorts and an ultra-luxury beach-club-style resort on the mainland at Mission Beach would create up to 10,000 jobs.
"We are delighted and humbled in being given the opportunity to restore the jewel in the crown of Far North Queensland," Mr Mawhinney said.
"One of the things that has really been lacking, we have found there have been a lot of operators have come in and just operated individual sites.
"Some have succeeded, others have failed. Part of our de-risking strategy was to make sure we had a much more broader, cohesive plan."
According to the ABC, that plan includes building a golf course, three resorts on Dunk Island and redesigning the local airstrip so it can accommodate international jets.
The company is keen to tap into the Asian market but is also in talks with airlines that can stop over in Dubai.
"Dunk Island is an iconic part of Australia's history," Mr Mawhinney said. "We are very mindful of this region having two world heritage-listed sites."
The island was formerly owned by Peter Bond, who bought it for $7.5 million in 2011 shortly after Yasi hit, planning to create 40 suites and employ 40 staff. Bond lost the key lease after construction delays and the island was left in ruins alongside several other former resort islands.
The Mayfair development is part of a Whitsundays resurgence which is driving price growth and tourism development up and down the Queensland coast from Port Douglas in the north to the Sunshine Coast in the south.
International bookings at Whitsunday resorts rose by ten percent in 2018 as the region continues its recovery from Cyclone Debbie in 2017 and following a raft of refurbishments, including the rejuvenation of Daydream Island and IHG's Hayman Island resort.
Tapping into that resurgent market, prominent 4.5-star Whitsunday resort Peppers Airlie Beach is back on the market offering vacant possession after a $20 million deal collapsed two years ago.
The sale includes management rights and 59 of the 106 strata apartments alongside the 1.8 hectare Accor-managed resort's reception, restaurant, meeting, conferencing, and day spa facilities.
In September 2016 the property was placed in the hands of the receivers and US hotel giant Wyndham exchanged contracts on the deal before it fell through.
CBRE Hotels has been tasked with managing the sale on behalf of receivers, agent Hayley Mavell saying: "The Whitsundays' region has been the subject of renewed investor interest thanks to a strong rebound in tourist arrivals post Cyclone Debbie, and the reopening of island resorts, including Intercontinental Hamilton Island and Daydream Island."
Cassowary Coast Mayor John Kremastos says he is hopeful Mayfair's investment in the Whitsundays will stimulate a significant increase in tourists to Far North Queensland.
"We welcome this type of investment into our region, which reinforces this council's decision to develop a strong local tourism strategy and offer development incentives to drive investment to our region, and in particular, Mission Beach," he said.
"The Cassowary Coast is stunning, we've got not only the islands and the Great Barrier Reef, we've got our natural rainforest, waterfall trails, there's so much to do here.
"Once the word gets out we'll see a whole new invigoration in Far North Queensland."
However, he warned the investment plan would need to align with council's eco-tourism driven planning rules.
"We don't want another Gold Coast or concrete jungle, we want people to appreciate the beauty of our area," he told the ABC.
The rebuild is also subject to state government approvals.