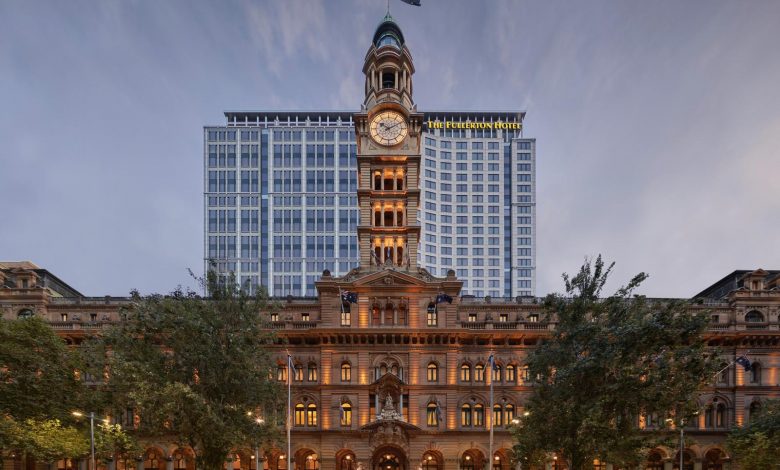 The nation's major cities were the focus of a series of key accom announcements this week.
Sydney's historic General Post Office building at 1 Martin Place has reopened as The Fullerton Hotel following a multi-million-dollar restoration of its sandstone exterior.
The 416-room CBD property, formerly the Westin Hotel, has undergone a meticulous cleaning and restoration of its iconic façade, with more than 38,000 working hours put into the refurbishment.
Described by Sydney lord mayor Clover Moore as a Victorian-era masterpiece and a 19th-century equal to the Opera House, the former Westin hotel features ornate carvings by Tomaso Sani considered controversial in 1887 for portraying ordinary Sydneysiders, some in risqué poses.
The property marks the Singapore-based Fullerton Hotels and Resorts group's Australian debut. It features a six-storey atrium housing restaurants and bars including Modern Australian eatery The Place, and will offer a signature afternoon tea experience and cocktails including an Australian variation on the Singapore Sling.
Fullerton Hotels and Resorts general manager, Cavaliere Giovanni Viterale, said: "It is our aim to provide hotel guests and visitors with heartfelt hospitality and memorable experiences, all while showcasing the beauty and heritage of the former Sydney GPO building to a wider audience both nationally and globally."
Brisbane bloomer
Wyndham Hotels & Resorts has unveiled plans to introduce its Wyndham Garden brand to Australia with the signing of a new hotel in Brisbane.
The 120-room Wyndham Garden Suites Spring Hill Brisbane, scheduled to open in September 2021, features a collection of suites designed for guests on short and extended stays.
The new-build hotel is owned by Image Developments and will operate under a franchise agreement.
"We are thrilled to debut Wyndham Garden – one of our fastest growing brands – in one of Wyndham's most important markets," said Joon Aun Ooi, Wyndham's managing director for South East Asia and the Pacific.
"Brisbane's tourism industry is booming, with visitor expenditure surging ten percent in the year ending March 2019, including an impressive 15 percent jump in international revenues, making this the perfect time to add our third brand in the city."
Wyndham Garden Suites Spring Hill Brisbane will join a network of 116 Wyndham Garden hotels worldwide across locations in the US, Europe, China and South East Asia.
Melbourne Marriott
Hot on the heels of Accor announcing a new Sebel for Ringwood comes news of a new AC Hotels by Marriott property planned for the Melbourne suburb.
The 200-room will managed under Marriott's Spanish-influenced brand as part of the East End development, a mixed-use project featuring residential, commercial, lifestyle and recreation facilities close to the Dandenong Mountains and Yarra Valley.
The development will be overseen by local developer Sunstone Projects and is due to open in 2024.
The hotel will feature an all-day Spanish restaurant, grab-and-go bar, indoor pool, fitness centre, co-working centre and meeting and events spaces.
Marriott International area vice-president for Australia, New Zealand and the Pacific, Sean Hunt, said: "In Australia, we've seen a rise in domestic travel and travel to destinations outside the main cities, which is driving demand for quality accommodation in more regional or suburban areas.
"Victoria is no exception, and we're excited to introduce this tailored hotel experience to Ringwood."
Perth pleaser
Quest Apartment Hotels has begun work on its 15th Western Australian property in the suburb of Ascot.
Quest Perth Ascot will feature 112 serviced apartments catering to business travellers working in Kewdale, Bayswater, Belmont and the surrounding areas.
The new franchise will sit near to Ascot Racecourse, Perth Airport and will be a key component in the ongoing redevelopment of the Belmont Park business hub.
The property is the second Quest hotel to be developed by M/Group as part of its $185 million portfolio of managed investor funds.
Quest general manager for growth, James Shields, said: "Our hotels are designed for regional and suburban centres. The City of Belmont is a gateway for business travellers in Western Australia and the state's growing economy is attracting more interest from our corporate clients.
"The nearby Ascot Racecourse also contributes to the local tourism industry through its popular spring racing carnival, driving the demand for short and extended-stay accommodation."
Quest Perth Ascot is on track to be open to guests in late 2020.