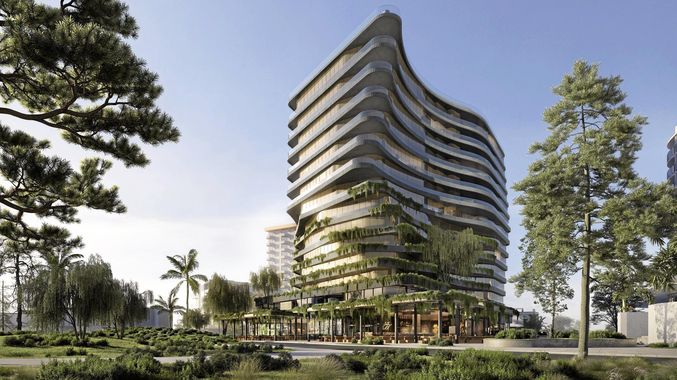 Queensland's Sunshine Coast will be home to a major new luxury hotel, developer Aria Property Group receiving approval for a landmark five-star beachfront development at Mooloolaba.
The announcement follows the announcement early this week that a $500 million Kelly Slater surf ranch will be created at nearby Coolum.
Both developments join a swathe of remarkable new accommodation offerings around Australia, including Perth's newly-opened Art Series hotel The Adnate and a towering $202 million hotel development in North Sydney.
The Mooloolaba development has been a long time coming, developers Aria spending a decade formulating plans for community approval and arguing the region's lack of five-star accommodation was hampering its tourism appeal.
The Sunshine Coast is undergoing major infrastructure changes, with a $225 million airport expansion due to facilitate direct flight routes to Asia and the development of a new CBD in Maroochydore.
Aria's development at 1 The Esplanade in Mooloolaba encompasses a 2,600 sqm site and will include 66 residential apartments alongside the 139-room international hotel.
The integrated resort will feature shops and restaurants, a day spa, conference facility and publicly accessible roof-top bar and restaurant.
Aria development director Michael Hurley told The Urban Developer: "It's incredibly rare to find a beach within Australia, that's north facing, protected by the headland, bounded by the spit, river and harbour.
"This combination with an amazing array of beachfront accommodation, quality dining options, retail, amenities and activities already in place creates the perfect mix for anyone to live or holiday in Mooloolaba."
According to Aria, the project's rooftop will reference iconic buildings like the Marina Bay Sands in Singapore and One Hotel South Beach Miami.
Art at heart
The $90 million Adnate, Accor's ninth art series hotel, opened its doors this week.
Inspired by the work of Australian big wall street artist Matt Adnate, the hotel features one of the world's largest murals – a monumental artwork reflecting Perth's cultural history which spans 25 storeys and is the tallest in the southern hemisphere.
The 250-room hotel also features originals and prints of 30 of the artist's most-recognised works and adjacent to it runs a spectacular 50-metre-long laneway mural, again by Adnate.
The Adnate is the first Art Series hotel dedicated to street art and heralds the arrival of the Art Series brand in Western Australia.
Signature art experiences include art tours, in-room art channels and art libraries, while branded courtesy cars and Lekker bicycles allow guests to explore their environs.
"Our collection of Art Series hotels transcends the traditional hotel experience by masterfully uniting Australia's contemporary art culture with a boutique hospitality experience," said Accor's Pacific  CEO Simon McGrath.
"Adnate is a seamless combination of art, design and functionality. It's a powerful representation of contemporary creativity, with connected and inspiring spaces for guests to discover. We're so excited to share this stunning property with guests visiting Perth from other parts of Western Australia, interstate and overseas,"
Towering prospect
Singaporean serviced apartment giant The Ascott Limited has struck a $202 million deal to buy a 252-room hotel in what will be North Sydney's tallest tower.
The group has agreed to purchase the hotel component of Billbergia's 48-storey mixed-use tower under construction at 86-88 Walker Street.
The Citadines Walker North Sydney, as it will be known, will sit below 13,000 sqm of office space across 21 levels and will include a restaurant, rooftop bar, meeting rooms, business centre, executive lounge and a fitness centre.
The 10,000 sqm hotel, incorporating 252 hotel suites across 16 levels, will be surrounded by Winten Group's 1 Denison Street tower and Dexus' 34-level 100 Mount Street tower.
Ascott chief executive Kevin Goh said: "This latest acquisition in Australia is in line with our strategy of growing our fund management portfolio through private equity funds, joint ventures and listed hospitality trusts – all of which provide a core asset base for our asset management business."
The group bought the 150-room Felix Hotel at Sydney Airport for $60.6 million earlier this year.