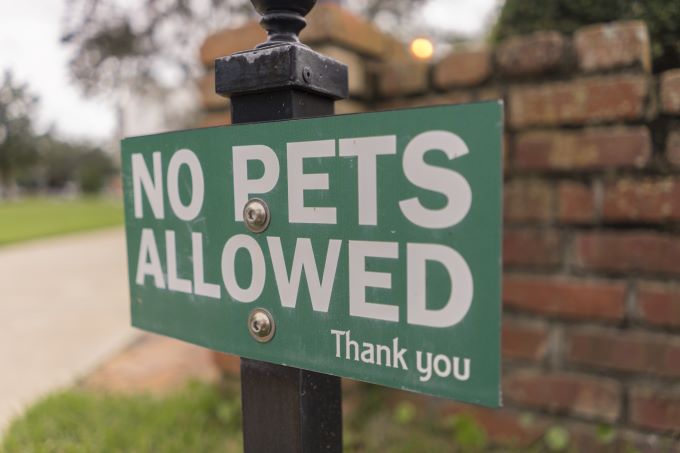 A woman who spent years fighting to overturn a pet ban in her luxury apartment building has won the backing of a NSW tribunal in a decision likely to have wide-reaching implications for accom owners.
Jo Cooper has battled for almost five years for her miniature schnauzer, Angus, to live with her in the prestigious 43-storey, 260-apartment Horizon building in Darlinghurst, Sydney.
In a decision that could affect any apartment block in NSW with a no-pets policy, NSW Civil and Administrative Tribunal senior member Gregory Burton said the bylaw prohibiting pets was "harsh, unconscionable and oppressive".
And he ordered the owners corporation "promptly to do all acts necessary to record the removal of bylaw 14".
According to domain.com.au, Cooper, a singer in her thirties, has had Angus for 13 years. She has faced the eviction of her now elderly and disabled dog since 2015.
"I just can't believe we've won," she tearfully told Domain. "I didn't expect that we would win, and I'm shaking. I can still hardly believe it. This fight has taken up four-and-a-half years of my life and it's been so incredibly stressful.
"Hopefully, other people will be able to have pets now if they want them. And, they won't have to go through what I did."
The fight may not be over just yet, though, with the Horizon owners corporation able to appeal the finding.
The executive of the Elan building in nearby Kings Cross is currently appealing a similar tribunal decision, warning pet-lovers who bring a dog or cat into the building they risk having it euthanised if the appeal is upheld.
When Cooper moved into the building, she says she made unsuccessful attempts at owners corporation meetings to overturn the bylaw and did not move Angus in until six months later, after she was "informed by committee members that sneaking pets in was how they preferred things". The executive then agreed to spend $70,000 on legal action to try to evict the dog.
In his 55-page ruling, Gregory Burton said the 9.5-kilogram well trained, de-sexed, vaccinated, parasite-free, hypoallergenic and non-shedding Angus had "apparently lived in strata schemes all his life without complaint about his behaviour".
"There was uncontradicted expert evidence that miniature schnauzers are adaptable to all environments and bred for and ideal for apartment living," he argued.
He did, though, concede a no-pets bylaw might be justified in very small strata schemes or those with a high number of investors or short-term holiday leases.