Jerry Schwartz has vowed to save a multi-awarded Gold Coast family resort earmarked for demolition by the collapsed Ralan Group.
The owner of Australia's biggest private hotel collection has acquired the Paradise Resort for $43 million, well below the $75 million figure Ralan paid for the site in 2015 under plans to bulldoze the property and build another Ruby apartment tower.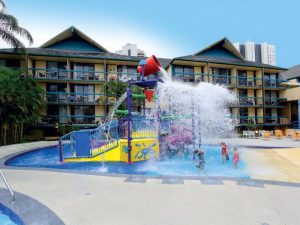 Schwartz will begin work to refurbish the 360-room Surfers Paradise property following final settlement in February 2020.
Paradise Resort has been rated as Australia's best family resort on numerous occasions over the past decade by family magazines, travel guides and industry bodies.
A major refurbishment program will see rooms, food and drink outlets and other facilities all upgraded.
The addition of the Paradise Resort will increase the Schwartz Family Company network to 15 hotels and more than 3500 rooms in four states and territories. It is the company's second hotel on the Gold Coast following the acquisition of Hilton Surfers Paradise earlier in the year.
Dr Schwartz said that he was attracted to the property because of its reputation as a premier family-friendly resort. While continuing to offer a "a highly attractive and good-value product", some rooms will be upgraded to 4/4.5-star standard to attract a wider market.
"I know that previous owners planned to knock down the resort and redevelop it for apartments, but we believe there is tremendous demand for quality family-friendly resorts, especially in such prime locations as Surfers Paradise," he said.
"I have taken over two other resorts – the Fairmont Resort Blue Mountains and Crowne Plaza Hunter Valley – and revived them as a result of diversifying their markets and enhancing their family facilities and attractions.
"Paradise Resort also has potential to grow further, and this purchase will give all those involved with the hotel certainty about the future.
"I am very optimistic about the Gold Coast market, despite new supply coming on stream. Both Paradise Resort and my previous purchase – the Hilton Surfers Paradise – have established very strong reputations, and with investment in both hotels, allied to sustained growth in Gold Coast's domestic and international markets, I see considerable upside for both properties."
Dr Schwartz said that it was 'traditional' for the Schwartz Family Company to organise a major charity event to mark the addition of a new hotel to the network, and given the property's alignment with families, raising funds for family-focused charities would be the priority for the event, scheduled for 29 February 2020.