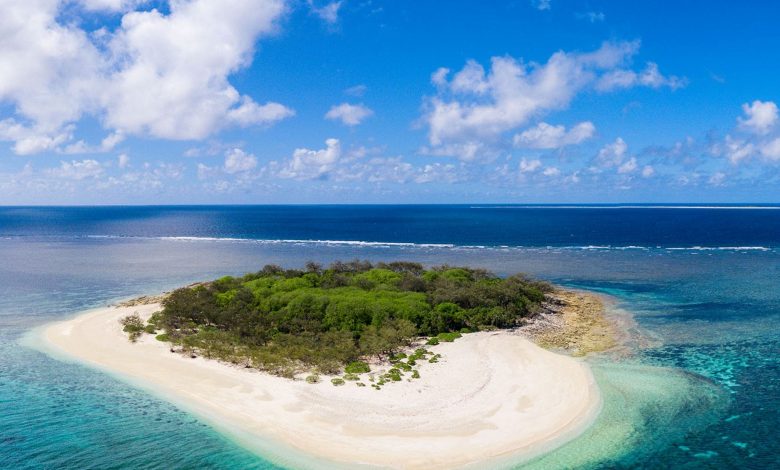 An abandoned tropical island resort has been transformed into an adults-only glamping escape – to the frustration of traditional owners.
Wilson Island, a coral cay 80 kilometres off the Gladstone coast in Queensland's southern Great Barrier Reef, is traditionally owned by the Port Curtis Coral Coast People, a representation of the Byellee, Gooreng Gooreng, Gurang and Taribeland and Bunda tribes, but is registered as state-owned land.
The 5.24-acre island paradise was abandoned by a former manager five years ago but in 2017 was bought on a rolling lease by Aldesta Hotels, which has redeveloped the facilities into a luxury glamping offering.
The group runs the larger resort of Heron Island, some 15km or a 40-minute boat rise from Wilson, and describes its new offering as "a private, untainted, untouched and understated getaway with safari-style tented accommodation." 
"It's such a unique experience over there. It's like you're living in the middle of a bird sanctuary, you wake up there's turtles outside your room nesting," project manager Kevin Nixon told the ABC.
The island's traditional owners have expressed frustration that they were not consulted about the development of the land.
The PCCC board is responsible for managing various Indigenous Land Use Agreements (ILUA), but board members told the ABC they were unaware of any such agreements for Wilson Island.
Gooreng Gooreng woman Cherissma Blackman-Costelloe said the lack of consultation represented a missed opportunity for the developers.
"We have the responsibility and obligation to… care for country and land and sea management," she said.
"They can form a partnership with all Indigenous traditional owners on those offshore reefs and islands. That will then create economic development, it will create pathways for the future generations and I'm not talking only for traditional owners – it's for the wider community as well."
According to the Department of Natural Resources and Mines, the state-owned land has been leased to Aldesta under a rolling-term lease until 2049.
The resort aims to be sustainable and will close to guests for two months a year during the annual bird-breeding season.
Tourism body Gladstone Area Promotion Development Limited says the accom development will be a major drawcard for domestic and international visitors to the region.
"This just opens up another luxury market in our region," tourism manager Dominique Gleixer told the public broadcaster.
"It's a completely different island experience to Heron Island … there's only 19 people able to be on the island at one time, with nine permanent designer tents, so it's a private exclusion and we're very fortunate to have this in the southern Great Barrier Reef here."
The development's sustainable focus includes solar power for its nine safari tents, organic linen, recycled timers and glassware, and eco-friendly mattresses, light fittings and bathroom amenities. It is plastics free.
Mr Nixon said the hotel group would work closely with Queensland Parks and Wildlife to ensure the protection of island wildlife.