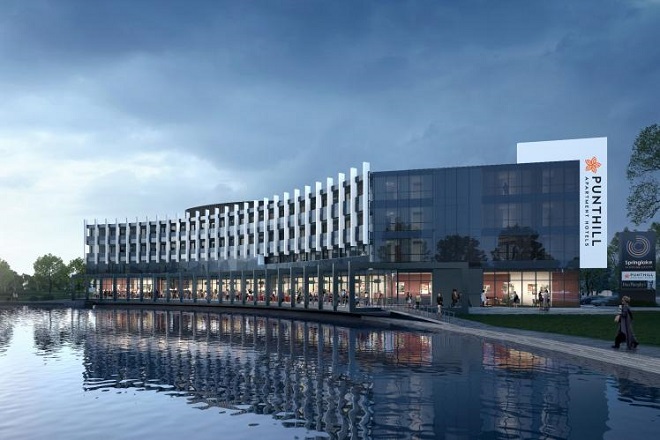 The homegrown boutique group Veriu will build four new properties across NSW and Victoria over the next two years under its Punthill Apartment Hotels brand.
The $80 million spend will add 235 rooms to the group's portfolio through one Central Coast and three Melbourne suburban properties – adding to its currently inventory of 1,700 rooms and apartments across 24 sites.
The announcement comes at the end of a stellar year of expansion for Veriu, which acquired 13 hotels under the Punthill brand and is looking to grow by another 50 properties over the next five years by partnering with developers and local businesses.
The group, founded 17 years ago by Sydney entrepreneurs Rhys Williams and Alex Thorpe as a students accommodation provider, has capitalised on the growth of the micro-apartment sector.
CEO Zed Sanjana said: "We see a huge opportunity to become one of Australia's largest niche hotel operators, while still maintaining a unique and localised feel at each of our properties.
"The logical and natural progression for us is to extend this offering to further suburban and key regional markets as well as other states, particularly South Australia."
The 40-apartment Punthill Essendon North, offering a mix of studio and one-bedroom apartments, will be built in partnership with developer EVR Group, while the 80-apartment Punthill Caroline Springs will be a collaboration with developer Geopec.
The 55-apartment Punthill Oakleigh Central and 60-apartment Punthill West Gosford on the NSW Central Coast will both encompass a mix of studio, one and two-bedroom apartments expected to open within 24 months.
 "The Australian accommodation market has been consistently under supplied for a number of years, particularly in terms of upscale and design-driven apartment hotels in key corporate locations," said Sanjana.
"We believe that business travellers are increasingly looking for more unique and localised accommodation experiences within these corporate hubs.
"Our network expansion is focused on bringing more unique and interesting accommodation options to CBD, suburban and regional markets, in locations underpinned by the business travel segment, supported by business and industrial parks, universities, hospitals and major infrastructure projects."