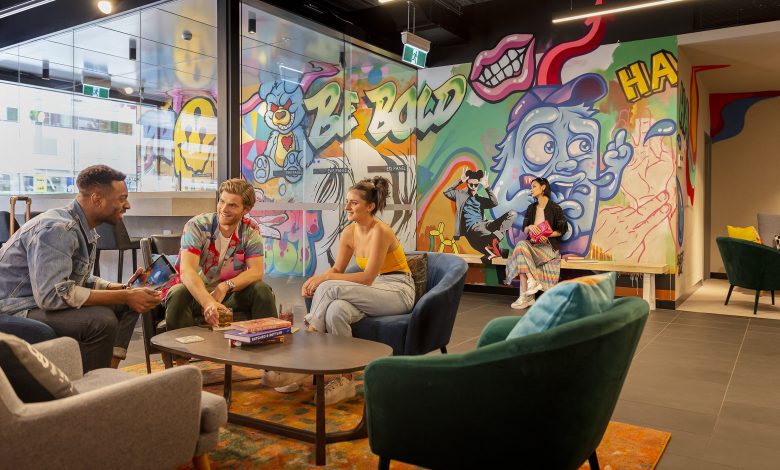 Next Story Group has dropped the L from its lacklustre Link brand to create something entirely different in the hip heart of the hippest city in Australia.
On the launch of Ink Hotel Melbourne Southbank, we spoke to the group's vice-president of operations, Alex Billing, about the city's saturation of quirky, and how to cut through the BS.
Next was taking no chances with the launch if Ink. The 167 City Road hotel has been open for three months now as wrinkles were ironed out in preparation for the brand launch this week.
The group's VP of operations, Alex Billing, is genuinely excited about what Ink represents – and proud of the fact that it won't appeal to everybody.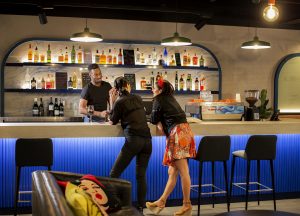 "One of the biggest cornerstones of Ink as a brand is it's connection to community. It's a neighbourhood hangout," he says.
"A cookie-cutter approach to hotels for this brand won't work. There are cookie-cutter brands out there that thrive on that standardisation but Ink as a brand will absolutely be the polar opposite.
"What we do here in Melbourne is very much geared around Melbourne – from the people we partner with, to the type of uniforms we wear, to the artwork we put into the building. It's very much geared around the local community."
Ink is highly stylised across its 162 rooms, bar, restaurant and communal lobby/meeting/hangout/check in space, with bespoke furniture and artwork a feature of the hotel.
Aimed at a "Gen Z mindset", what sets it apart from a rash of other mid-priced artsy, youthful, socially and environmentally conscious boutique offerings, Billing says, is that devotion to integration with the locale of each property.
For example, the hotel partners with a local company called STREAT which provides work and support for homeless people in Melbourne. STREAT provides coffee and coffee training for the venue, and the money earned from selling the Melbourne staple goes back into supporting the charity.
"Especially for a brand like ours which puts itself at the heart of a community, you can't be frivolous, you can't be unaware of your place within that community," says Billing.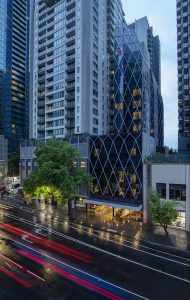 "In Melbourne they're a very forward-thinking and socially conscious community, so a vital part of the brand, certainly for this property as we launch it in Melbourne, is ensuring we are socially aware.
"I think those connections go beyond those 'nuts and bolts' things and really create something tangible. STREAT have their team come into the hotel and tell the team about what they're doing and how they're helping the local community and some of our team have gone out and helped them on other projects.
"I see it as something really exciting. It's not just talk. Our team here are very much of the generation that we're aiming to attract, and they see through BS pretty quickly – they don't want to be mucked around and they don't want to be talked at. They want to see real action and I think that it's vital we follow through."
All of which is great in a Melbourne-based property, but how does that translate when the brand opens elsewhere? The second Ink is already development, or redevelopment, in Singapore, with more planned throughout Australia and South East Asia.
"The Ink in Singapore is going to have a very different flavour," says Billing.
"It's going to have the same brand pillar and attributes about being that neighbourhood space and community connectivity, but that will look very different as we move into Singapore and other location around Australia.
"That for me is what's really exciting. It's more fun, you're building something new every time. It's not a boring process.
We absolutely see it as a brand we can take anywhere by virtue of the brand pillars. It's made to be localised so that opens it up to pretty much any location."
In creating the brand pillars, Billing says the group avoided looking at what others were doing – although he attributes Airbnb's influence as a key shaper of millennial guest expectation.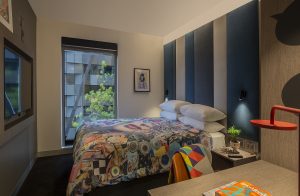 "We looked at the emerging generations of traveller and said, 'what are they looking for?' We've deliberately not benchmarked ourselves against anyone else because we didn't want any pre-conceived ideas and we didn't want to be quirky or different for the sake of it.
"Connection to local community, we see that with Airbnb, right? We see that being a key drawcard. We don't have defined roles within our team, we just have hosts, and their job is to be like an Airbnb host, so their approach is 'whatever you need from me, whatever you want, I'm going to help you out'.
"We've cut down some of those traditional barriers of guest service and created a group of people who can connect our guests to the local area.
"Even with environmental and social elements, yes they could be copied, but we didn't do it because of that, we did it because we felt it was the best way to connect to local communities to create an environment that this generation of travellers will resonate with.
"Certainly there are brands out there that are being quirky for quirky's sake, and I think that's always dangerous because you're not anchoring yourself in something."
The trouble with trendy is that it can age faster than a millennial with a receding hairline. Does Billing anticipate Ink getting stale?
"Yes, there's a risk when you have a strong design ethic within a hotel and it looks a certain way, and there's no doubt that our hotel looks a certain way.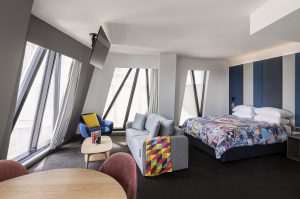 "But we'll continue to evolve as our travellers and our local communities change. We'll continue to work with local artists, for example, to keep our artwork fresh and our offering up to date.
"We're very conscious that staying true to the brand is good, but we've also made sure that the fundamental elements of the hotel are really, really good.
"It's OK to have fun design and we're really excited about the way the hotel looks and feels, but I've got the same beds in this hotel that are put in our five star hotels, I've got an amazing entertainment system with free movies, I've got amazing wifi. So all of the great fundamental hospitality elements are delivered and that will never change."
With Melbourne's occupancy figures and RevPAR in decline thanks to a flood of new rooms into the market, any operator launching a hotel in the city should be concerned about the intensity of the competition for guests.
But Billing says he is optimistic that Ink will hold its own.
"We've certainly been buoyed by our initial trading for this property. It's about strength of brand and committing to who you are and creating that guest experience that resonates with people, and I think the rest will come.
"In Australia we have a number of markets that are feeling the pinch of some new supply and an influx of new brands, but it's about being committed to that brand and setting yourselves apart and also not forgetting good quality hospitality. What we see in a lot of our properties right now is an overwhelming positiveness about our people and the genuine hospitality that we provide.
"So we bring the strength of that in our exisiting properties into this new exciting brand so we're optimistic about the future."
Asked if Next Story Group was looking at wholesale expansion of the brand globally, Billing said Australia and then South East Asia were the immediate focus for Ink, but the group was cautious in its approach to development.
"We're considered in our growth. We have around 20 hotels at the moment across our hotel brands and though we are looking to grow, what we're trying to create with Ink and our Sage and Next brands is a strong brand message. When you have that, you can't take everything that comes across your desk.
"We are making sure that we take the right deals moving forward and we're putting our hotels in locations that make sense to those brands because we don't want to dilute our brands.
"As an industry, I think we've reached the point where you need to stand for something and really be good at what you do – and be comfortable with what you don't do.
"Our Ink brand is different and we don't anticipate it will appeal to everyone, and to be honest, if we're doing it right it probably shouldn't appeal to everyone.
"Our brands will be defined by their strength of conviction which means they're not for everyone but I think that's great.
"We don't want to create that beige middle ground that has dominated for so long in hotels where we've tried to appeal to everyone. That's just not what's going to create the right experience moving forward."