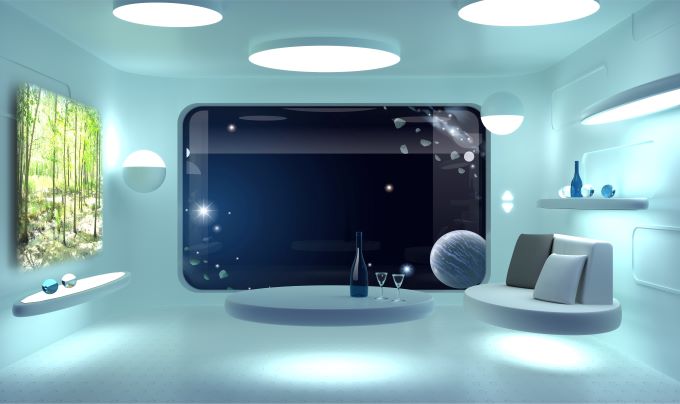 What technology is right for your accommodation and how might it transform your guest experience?
From in-room voice assistants and self check-in kiosks, to robot porters and casting services, the hospitality industry is experiencing a boom in technology. 
The following post identifies six of the most exciting technological trends in the hospitality industry. 
1. Digital room service
The dog-eared compendium remains a common feature in many hotel rooms — it's something even 5-star properties feel obliged to provide. But aside from being expensive to maintain, the compendium is a pretty uninspiring way to let guests know about your hotel. This is most definitely a place where technology can do a better job.
Today, hotels can feature all the information in a traditional compendium on an in-room tablet, or on a guest's smartphone. Suffice to say, this makes it far easier for guests to find information and make requests — whether it's ordering fresh towels, finding the location of the gym, checking pool opening hours, baby sitting services, etc.
Enticing images and an interactive display make this technology more appealing to use, helping to increase guest spend. From a cost-saving point of view, it's also far less expensive to update a digital in-room tablet than a physical compendium.
2. Casting services
Most people arrive at a hotel with their own digital content. They want to watch their favourite shows or play music on their personal devices while relaxing in the comfort of their hotel room. To enhance this experience, some hotels are investing in a new form of streaming technology known as "casting".
Services such as Roomcast and STAYCAST enable guests to "cast" their own content from a personal device to the in-room TV, vastly improving their experience. There are thousands of casting apps available (including Netflix, Stan, SBS on Demand, Kayo and YouTube) and casting works on both Apple and Android devices – a major advantage!
When a person casts a show to the TV, they can still use their phone as normal. This allows them to multitask (such as browsing the net) while their favourite show plays on the big screen.
Given the huge popularity of streaming at home, it's likely that people will soon want, and expect, to stream personal content from the setting of the hotel room.
Compared with traditional streaming, casting provides a more secure option as users can stream content by accessing the cast-enabled apps already on their own devices. That said, hotels need to do their utmost to ensure security issues are well managed — for instance you don't want a guest casting to the TV next door!
3. In-room automation
In addition to helping with energy management, in-room automation can enhance the guest experience and lead to positive online feedback. For example, a hotel in Brisbane has received numerous TripAdvisor reviews from guests who were impressed to find the lights automatically turned on and the curtains opened when they entered their room.
But automation needs to be used with everyone in mind. Most guests will enjoy controlling the in-room lights via a tablet, but others might find it confusing.
A non-tech option should always be available to keep everyone happy, but also to provide an alternative if the tech malfunctions!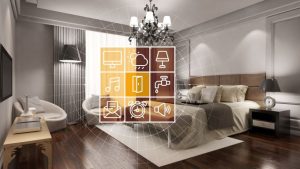 More importantly, it's essential to get the basics right before fully automating. As an example, a huge frustration for guests is bedside lighting – they often can't find the right switch for the light they want to turn on/off. Hotels must ensure they don't obsess over fancy automated solutions when more pressing problems require attention.
Automation represents an exciting new frontier, but it can't remedy every inefficiency. If you automate, it needs to be intuitive, deliver true value to the guest and be used with the intention of solving a specific problem.
4. Internet of Things
The Internet of Things (IoT) has created a lot of buzz in recent years. But what is the Internet of Things? And what impact might it have on the hospitality industry?
Put simply, the IoT describes all devices that are connected to the internet. As part of a digital network, all of these devices are able to collect and share data about their environment and how they're being used.
Hotels can leverage the IoT in an array of ways to add convenience. For instance, when a guest leaves their room, a door sensor could automatically call the lift to their floor, reducing wasted time standing around in the hallway.
The IoT can also increase efficiency by speeding up maintenance. A lift that's connected to the cloud can send out data (such as door movements, trips and fault codes) so that potential issues can be instantly reported and prevented. If the lift breaks down, fault codes and proposed solutions can be sent to the technician so they arrive at the hotel fully prepared with the right parts and tools.
This self-diagnostic capacity can be extended to all connected devices within a hotel, helping to alert hotel staff when they malfunction, or even before they malfunction.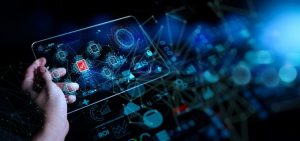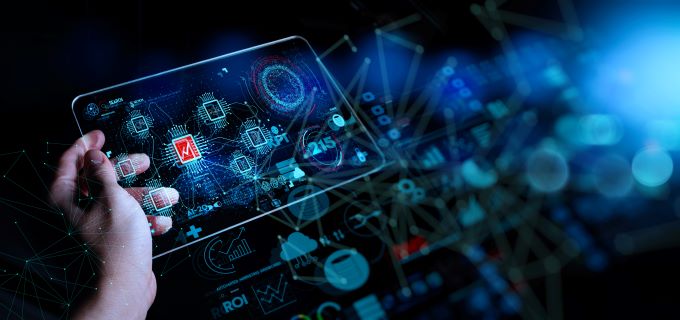 Looking further ahead, an IoT guest room can be used to learn from a guest's behaviours and preferences to customise things for future stays. Imagine a hotel room that automatically sets the shower to your preferred temperature, schedules a wake-up call for your morning gym session, or dims the lights in the evening to suit your preference while working.
Put simply, the IoT has incredible potential to hyper-personalise every guest's stay.
5. Robots
One of the famous examples of robots being used in the hospitality industry is Henn na Hotel in Japan. The hotel made the headlines earlier this year after firing half of its robotic workforce. Both staff and guests complained that the hotel's droids were malfunctioning and couldn't complete simple requests.
Does this prove robots don't have a place in hotels? Almost certainly not. Henn na Hotel was testing the limits of current technology. It was experimenting to see how useful robots could be and, arguably, to gain a few attention-grabbing headlines.
As for the long-term utility of robotic workers? Relay delivery robots have shown decent potential for wider adoption.
These automated butlers can deliver items during busy times to relieve the burden on hotel staff, while charming guests with their undoubted novelty factor. So far, over 70 of these units have been used in hotels around the world.
Elsewhere, some hotels are using robots to undertake or assist with important "back-of-house" tasks. For example, Rosie from Maidbot can help vacuum a room while housekeeping make the beds and clean the bathroom, helping to speed up room turnover times.
While concerns over robots replacing humans have some validity, many will likely be used in an assistive capacity – helping hotel staff to do repetitive, dangerous and dirty jobs more quickly and safely.
6. Voice assistants
While voice assistants are becoming more mainstream in the home, most travellers aren't ready for them in the hotel room. In addition to lack of familiarity, understandable concerns about security and privacy might prevent mass adoption. After all, there have been numerous reports of Alexa eavesdropping on its owner's conversations.
How to overcome these concerns? One way is to create a default where the guest has to "opt in" rather than "opt out" for an in-room voice assistant to be activated. A device that offers a voice and screen is also more likely to be accepted and enhance the guest stay rather than voice alone.
Privacy concerns aside, it's worth reflecting on whether voice-based technology will ever be right for certain guests and hotels.
Requesting towels and ordering room service with a "Hey Alexa…" voice command might be a welcome perk for some, but others could find it unnecessarily fussy and prefer speaking to a human member of staff.
In the end, every hotel must weigh up if the technology will enhance the experience for their own guests. If your hotel does invest in voice assistants, it's essential to provide an alternate form of communication using traditional options (such as the in-room phone) to accommodate everybody's preferences.
Looking to the future
The latest technologies have the potential to revolutionise hospitality – helping hotels do things better, cheaper and faster. Deployed in the right way, they can transform the guest experience by adding convenience and personalising their stay in a myriad of ways.