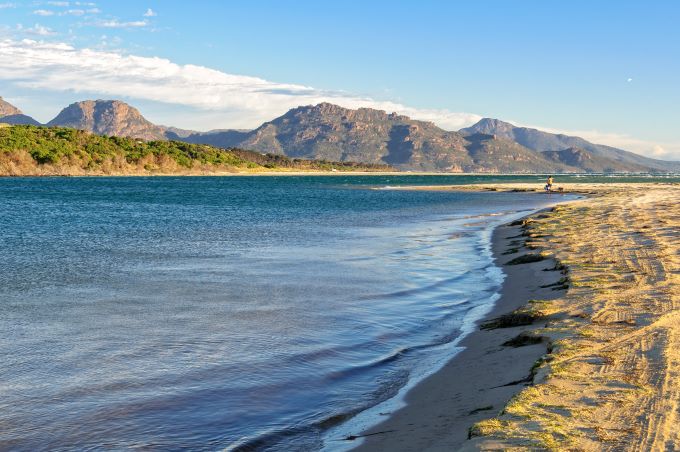 A $140 million tourist development on Tasmania's east coast has been rejected after planners found the developer's evidence of landowner consents was "not credible".
The controversial Hong Kong-backed proposal to turn 3,000 hectares of agricultural land overlooking the Freycinet National Park into a sprawling tourism resort was rejected by the Tasmania Planning Commission over issues with paperwork related to the land's rezoning.
The proposal was narrowly approved by Glamorgan Spring Bay Council last year after Australian-listed company Cambria Green applied for the creation of a special development zone.
Within it, the developer plans to create the Cambria Green eco-resort encompassing 70 holiday villas, 240 units and a 120-room luxury hotel, two golf courses and an 80-bed spa or palliative care unit.
The proposal had angered many locals, state Greens leader Cassy O'Connor saying the acreage should remain prime agricultural land rather than being turned into "a massive resort and palliative care centre for cashed up Chinese tourists".
The site, between Swansea and Dolphin Sands, covers 12 different titles owned by seven companies and two individuals. All but one of those entities is Hong-Kong registered.
In scathing comments, the planning commission said the applicant failed to provide evidence to prove it had the consent of all of landowners to make the rezoning application and there was therefore "no valid amendment request" for it to consider.
The commission described Cambria Green chief executive Ronald Hu as "defensive and evasive" in his responses and considered his evidence was "not credible".
The decision means Cambria Green will have to re-submit its rezoning application to council, beginning the lengthy planning process again, to resurrect the development.
A spokesperson said that the group is reviewing the decision and considering its options.