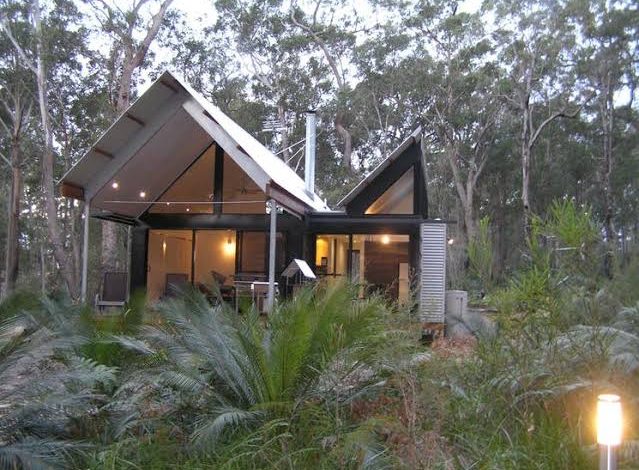 Prime minister Scott Morrison has urged Aussies to support fire-affected accommodation operators by not asking for a refund from those affected by bushfires.
"If you booked accommodation and you're now seeking a refund, can you cut them a break," the PM said on Wednesday, asking holidaymakers whose stays were affected to consider the timing before chasing a refund.
"Even better – why not, if you're in a position to do so, then why not even let them keep it," he said.
It is a sentiment which NSW operators are already experiencing in the reaction of guests to cancelled bookings.
Mark and Suzi Berry, owners of the boutique south coast property The Bower at Broulee for the last 26 years, saw their home razed to the ground in the New Year's Eve fires. Their five accommodation 'bowers' dotted throughout the surrounding forest were saved from the brunt of the blaze but suffered damage to decks and services infrastructure.
The couple managed to evacuate guests, themselves, a dog and two horses (one badly scalded) during the crisis.
As they embark on a formidable recovery journey, the stalwarts of the local tourism industry are in part buoyed by the early reaction of guests.
Mark set up the Facebook page Bower Recovery in the days following the fires to "keep everyone informed" and, despite Facebook blocking him from inviting friends to join, is determined to get the message of progress out to friends and clientele.
On it, he shares the heartening initial responses of guests to cancellations, including one saying: "We have discussed the deposit and have both agreed that due to the circumstances we would like you to keep it and put it towards whatever you require. I know this is only a small amount but hopefully, it can be used in some way. Stay safe."
Another, a Booking.com user, said: "Sorry that you have been involved in the bushfires. No need for a refund from us. Hope you are all safe".
For the Berrys, the focus now is on understanding what comes next.
"It almost feels like we're starting all over again, the journey we began in 1993," said Mark. "There are some relief funds available, but the immediate priority is to get an agreement with our insurer so we know what options we have."
Destination NSW announced this week that once the initial fire danger has dissipated, it will work alongside the state government to focus on supporting communities and businesses as they recover.
"There's no doubt tourism will play an important social and economic role in that recovery," said a spokesperson.
"Right now we are working with the state's six destination networks to understand the impact of the bushfires by completing an audit of tourism infrastructure, product and experiences.
"This will further inform and guide our developing plan to promote statewide travel in NSW and in impacted areas once it is safe to do so."
The tourism body is also working to promote those areas unaffected by the fires, including Sydney, to ensure travellers don't cancel breaks unnecessarily.
"Visitors to New South Wales are encouraged to maintain their travel plans and bookings over the summer period, but should be vigilant and seek the most up to date information prior to departure," it is advising tourists.
Tourism Australia has meanwhile set up a page to provide the industry and the public with up-to-date and accurate information on bushfire affected areas, outlining which areas are affected or safe to travel to.
One of those is the Eurobodalla region stretching from Batemans Bay to Eden and encapsulating the Berry's property, the shire this weekend being designated safe to receive visitors again in a welcome break for embattled local operators. 
While accom businesses can expect to receive support funding as they look to rebuild, the flow of money from industry players into fire-affected communities is also notable – including a $250,000 donation from the Australian Hotels Association and Tourism Accommodation Australia to support NSW bushfire victims.
Financial help is being backed up with practical efforts to support fire-affected communities and tourism businesses.
Hotelier Jerry Schwartz has offered 32 Hunter Valley holiday cabins, currently awaiting final Cessnock Council occupation approval, as temporary accommodation for those without homes.
Zoe Manderson, the co-founder of travel tech provider Alpaca, has set up an initiative called Roadtrip for Good which encourages Aussies to visit communities affected by the fires with "wide smiles and open wallets".
And a campaign developed by two Melburnians is encouraging city dwellers to head to fire affected regional communities with an empty esky over the coming months. The #GoWithEmptyEskies social media movement is designed to support retailers, producers and accom operators by asking people to visit, spend money and fill their eskies with produce to take home.
The industry is also looking to give back to the firies who have spent weeks fighting blazes around the country, a  new 'holiday for a hero' initiative inviting rental property managers and owners to donate free accommodation, experiences, flights and transport for firefighters and their families.
Founder Deborah Labi told AccomNews: "We are currently at 65 stays, including properties in New Zealand, Bali, Portugal and the UK, and some experiences including yoga classes, stand up paddle boarding and a dinner for two. We aren't really marketing the experiences yet, but they're coming in!"