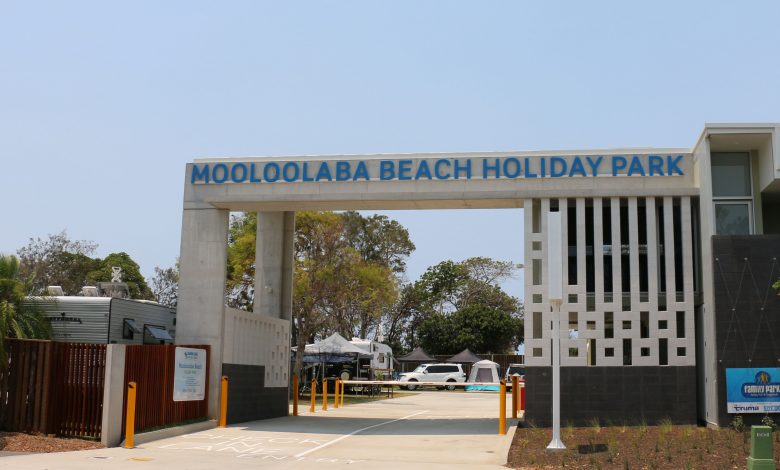 A holiday park with a million dollar view has reopened following a multi-million-dollar facelift.
The former Mooloolaba Beach Holiday Park was demolished in July 2019 to make way for a contemporary new facility designed to cater for larger caravans, motor homes and camping trailers.
The $3.8 million upgrade of the Sunshine Coast family favourite encompasses 59 large sites with enhanced access, a new camp kitchen, landscaping and improved connections to the beachside boardwalk.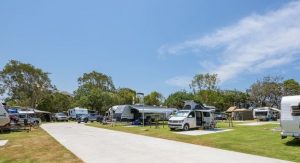 Sunshine Coast councillor John Connolly said that, while the revamp had reduced the number of sites at the Parkyn Parade, it was needed to ensure the venue continued to cater to campers' needs.
"The industry trend for larger caravans, motor homes and camping trailers requires larger sites," he said, pointing out that the 75 previous small sites had proven difficult to access.
"Over the past five years, council has increased the number of sites available at its holiday park network by 99 across the region, strengthening our commitment to deliver this service for our residents and visitors."
Mooloolaba is home to Australia's fourth best beach according to the TripAdvisor 2019 Travellers' Choice Awards and is one of the nation's most prolific fishing ports.
The revamped holiday park boasts direct access to the beach and is next to Mooloolaba Beach Surf Club and  opposite Sea Life Aquarium and the newly renovated entertainment hub of The Wharf.
Sunshine Coast Mayor, Mark Jamieson said: "Our enviable climate and natural landscape makes visiting our Sunshine Coast a relaxing holiday destination in any season, so I am delighted our visitors will have such a great place to enjoy during their time here.
"There's no better place to go on holiday, you're right beside the beach and it's a brand new facility with all the modern conveniences guests have come to expect."
The park is council owned and its redevelopment was timed to coincide with the $500,000 renewal of the northern section of the Mooloolaba Spit Boardwalk, the final stage of a $2.5 million boardwalk renewal project.