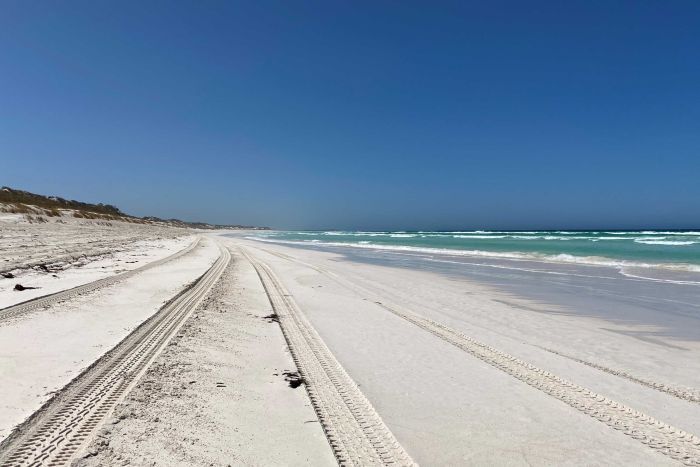 An 11-year-old boy and his father have died on a camping trip to a remote Western Australian beach after a toxic chemical apparently leaked from a fridge into their tent.
The boy's mother, who was lying next to the pair, survived and is in a serious but stable condition in Fiona Stanley Hospital following exposure to the poisonous gas and after showing signs of hypothermia.
The family dog was also found dead.
Police and rescuers were called on Monday morning to the Dide Bay beach, some 13 kilometres north of Lancelin near the Wedge Island access road and 150 kilometres north-west of Perth, after receiving a report a child was not breathing.
The alarm was raised by two other families who had been staying with the victims and were unable wake them in the morning.
The couple's two other children had stayed at home in Perth while the families were away camping, and friend and witness Roslyn Smith told 9News the first concern was the welfare of the two other children.
WA Police Minister Michelle Roberts said the incident, coming at the end of the Australia Day long weekend was "very disturbing".
"I understand there may have been some kind of gas leak from a fridge that was being used in the tent," she said.
"It is just very tragic. It is a long weekend, so many people would have had a similar experience of camping, be it at Wedge Island or somewhere else, and they would have used potentially similar equipment.
"So there really does need to be a thorough investigation into how this occurred."
Crews from the Department of Fire and Emergency Services and WA Police returned to the scene later this week to remove the equipment and clear the family's remaining belongings, including their car.
While camping is not permitted in many areas on the mainland around Wedge Island, it is a popular holiday destination.
The president of the local Dandaragan Shire, Leslee Holmes, told the ABC: "It's dreadful … you think of these weekends of everybody having a good time, spending time with their family, kids running around and having a ball and then you have a tragedy like this that's quite unexplained," she said.
She said the family was camping in an isolated area with limited access.
"You're not [supposed] to camp there, there are signs and everything, but unfortunately they may not have seen them and they've been probably fairly away from everybody," she said.
WA premier Mark McGowan has described the incident as shocking.
"It's very, very sad and very tragic for everyone involved. The man's wife is in a serious condition. For everyone involved it is a shocking situation," he said.
A report will be prepared for the Coroner and WA Police are asking anyone who was camping nearby at the time to contact them.