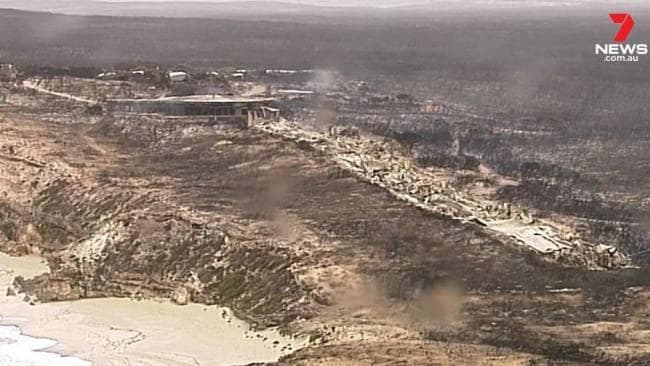 South Australians are being urged to maintain travel plans to the fire-ravaged Kangaroo Island despite weather conditions threatening further destruction to the tourism destination.
More than 215,000 hectares – almost half of the island – has been damaged since December 20 in blazes which have claimed two lives and destroyed its most iconic tourist destination, Southern Ocean Lodge.
The island's Visitor Information Centre, Western Kangaroo Island Caravan Park, Hanson Bay Wildlife Sanctuary and Kangaroo Island Wilderness Retreat have all been destroyed.
As emergency crews worked around the clock this weekend to contain uncontrolled fires ahead of predicted higher temperatures and greater fire danger, authorities were maintaining the message that the tourism destination will soon be back on track.
Kangaroo Island Mayor Michael Pengilly told local media: "When we get everything put to bed here, we hope people come. Kangaroo Island is still a beautiful place – there's still plenty to do."
Mr Pengilly announced February's Kangaroo Island Cup racing carnival – a major draw for interstate and overseas travellers – would go ahead despite the fires.
It is a message reiterated by Hayley Baillee, even as the founder of the destroyed Southern Ocean Lodge contemplates a challenging rebuild.
Baillie and husband James founded the luxury resort company Baillie Lodges in 2003 and as a board member of Tourism Australia, she is eager to counter the images of Kangaroo Island as a fire-ravaged wasteland.
"The majority of Kangaroo Island is still open for business and is completely untouched as magnificent as it ever was," she said – even as she conceded preparations to protect her own property proved ineffective in the face of a fire "just unprecedented in its speed and heat."
University of South Australia sustainable tourism expert Freya Higgins-Desbiolles has described as "too soon" calls for visitors to continue with plans to visit the island.
 "While tourism operators and authorities are calling for people to keep visiting Kangaroo Island, the fires are not yet out, CFS volunteers and defence personal are still being deployed, and infrastructure like the water treatment facilities are damaged," she said.
"Additionally, critical services like the Kangaroo Island ferry are needed to transport emergency service personnel and equipment. I just think it's too soon at this moment."
Higgins-Desbiolles says while it's strategically important to plan the recovery of Kangaroo Island's tourism businesses and primary producers, immediate tourist visits may not be the answer.
"While it is still be possible to visit Kangaroo Island at this time, it may not be the most viable or ethical decision under the current circumstances," she said.
"For those of us who love Kangaroo Island and want to see its economy recover and thrive, the advice for the short term is provide donations if you can, buy Kangaroo Island produce and products, and when the time is right, book your holidays there and plan to consciously direct your spending to support the local economy."