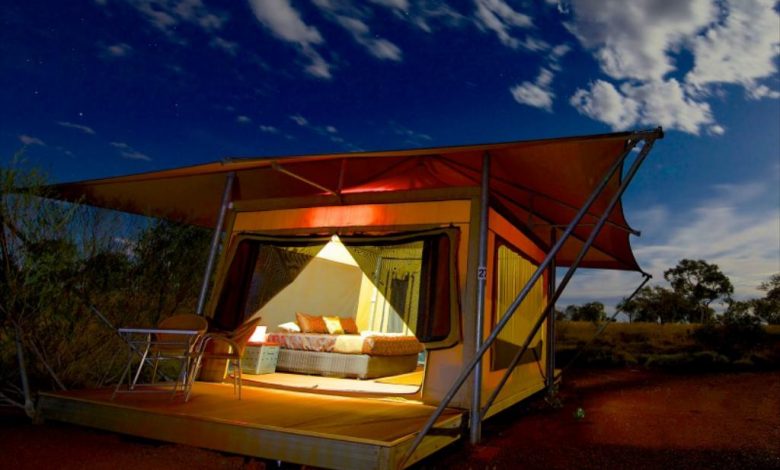 One of Australia's leading eco-resorts, Karijini Eco Retreat located 1,500km north of Perth, will have new managers from March as it looks to tap the region's vast visitor potential.
Award-winning local company Mackerel Islands Pty Ltd, which specialises in tourism ventures in remote WA locations, has been appointed to run the retreat by the land's traditional owners through Gumala Enterprises Pty Ltd.
"Mackerel Islands will bring a new energy to the marketing and management of such an iconic eco-retreat. We look forward to working together," Gumala CEO Tim Larkin said.
The retreat is the only nature based, up-market accommodation in the Pilbara's Karijini National Park and draws thousands of domestic and international tourists to WA's north west every year.
The region, including the Pilbara, Broome and Kimberley, attracted more than 1.5 million visitors in the 12 months to September 2019, spending over $1 billion.
Karijini offers deluxe glamping tents, dorm cabins and campsites at the edge of Joffre Gorge which can accommodate over 400 people, along with a restaurant and access to the park's walks and guided tours.
The 1969-founded Mackerel Islands will run the accommodation through subsidiary Karijini Adventures. It currently operates Thevenard Island, Direction Island, Onslow Beach Resort, The Beach Club and Mackerel Islands Fishing Charters and has an established history of operating in the Pilbara region.
CEO Drew Norrish said, "As a significant contributor to the development of tourism in Australia's north west, we are passionate about sustainable, indigenous and adventure tourism, which Karijini Eco Retreat embodies.
"We are thrilled to have taken on such an iconic property and to be working with Gumala Enterprises. Karijini is a true bucket list experience for many people, complements our existing portfolio in the Pilbara, and will benefit from our management and marketing expertise in tourism products and destinations.
"This next chapter in Karijini Eco Retreat's 14-year history will be exciting in terms of potential as we further develop the market."
Singapore sling
A fifth daily flight service from Singapore to WA has been welcomed by the Australian Hotels Association WA as a timely support to the state's accommodation and hospitality businesses.
CEO Bradley Woods said the new service will add more than 220,000 airline seats a year from Singapore, one of WA's most important markets.
"Singapore is currently WA's second largest market both in terms of the number of visitors we receive as well as the amount that they spend each year," he said.
"The timing of this announcement is ideal. An increase in visitors from Singapore will help WA accommodation providers and hospitality businesses offset the dual impact of the recent bushfires and the Coronavirus outbreak.
"The additional flight will facilitate new and returning travellers from Singapore, as well as adding another connection option for visitors from other key markets such as the UK, Malaysia, India and Japan."
The announcement by Singapore Airlines follows increases in 2018 and 2019 to the capacity of the four existing daily services, delivering an additional 121,400 seats from Singapore to the WA capital each year. 
"The latest visitation data shows that not only is Singapore our second largest market, but over the past year we have seen double digit growth in terms of the number of visitors from Singapore as well as their total spend, so additional flights into WA will help capitalise on this growth," said Woods.
Change of Seasons
The recently refurbished Seasons of Perth hotel in the heart of the WA capital's CBD has hit the market.
The four-star hotel, which features 120 rooms, pool, restaurant, bar, meeting rooms and car parking, offers development potential with a 1,973 sqm site and a previous development approval for expansion by an additional 70 rooms.
JLL Hotels and Hospitality Group managing director Mark Durran said: "The Seasons of Perth Hotel is being offered with vacant possession, presenting investors and owner-operators with branding and management flexibility, a prime central location, and the potential to refurbish and reposition the hotel to an upscale boutique or lifestyle hotel product."
Selling agent Nick Roche said the hotel was being marketed at a time when economic growth and business confidence indicated positive momentum in the WA economy.
"The positive outlook and market sentiment has also been reflected in the increased hotel transaction activity in Perth over the past 18 months as investors position themselves for future long-term growth," he said.