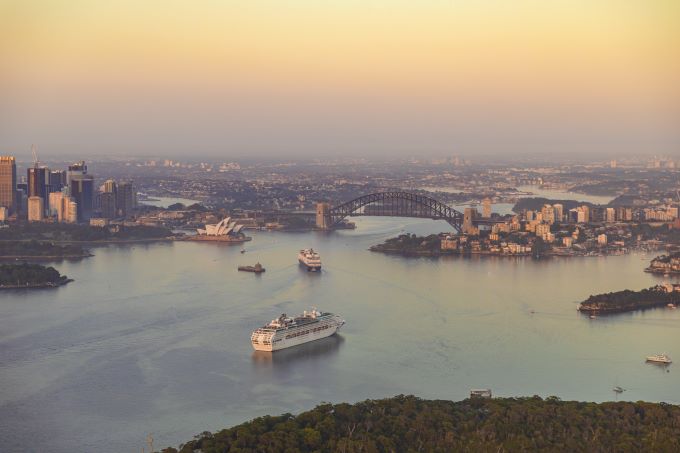 Australia has pulled up the gangplank on all cruise ships from overseas ports, prime minister Scott Morrison announcing the ban at a press conference on Sunday.
The move comes a day after after two of the nation's major cruise lines, P&O Cruises and Carnival Cruise Line, said they would be pause operations for at least 30 days in the face of the coronavirus threat.
P&O Cruises Australia president Sture Myrmell told media: "Cancelling or reducing the length of a cruise is the last thing we would ever want to do but these are extraordinary times and we have no hesitation in putting the health and well-being of our guests, crew and the wider community first."
And in a statement, Carnival said: "While Carnival has not had a diagnosed case linked to our operation we realise this situation is bigger than the cruise industry and we will continue to do our part to support public officials to manage and contain this unprecedented public health challenge."
The PM's announcement and Carnival's halting of services come less than a week after the cruise operator described as "disappointing" advice from the Department of Foreign Affairs stating coronavirus disruptions were making cruising a risk and suggesting Australians with health concerns might reconsider booked trips.
As recently as Tuesday, the company, which operates through the Princess, Carnival and P&O brands, stated: "Cruising remains one of the most attractive holiday options available in Australia and New Zealand, and our mix of domestic and South Pacific itineraries remains low risk.
"To maintain a healthy onboard environment, we have enhanced health screening protocols and other measures based on the best Australian and international public health advice."
Operators of South Pacific lines are among the last big players globally to suspend services due to the crisis.
US outbound cruises operated through Carnival, Royal Caribbean, Norwegian, and MSC all announced a 30-day suspension of services last week following a request from American president Donald Trump.
Swiss giant Viking cancelled its services more than a week ago touting a resumption date of May 1, while Britain's Line Cunard has paused new North American departures for the Queen Mary 2, Queen Victoria and Queen Elizabeth liners through to April 11. 
P&O and Carnival said they will contact all guests who have made cruise arrangements with the companies to keep them informed of developments. The company is looking to resuming services by April 13.
The government ban will be assessed on a weekly basis.