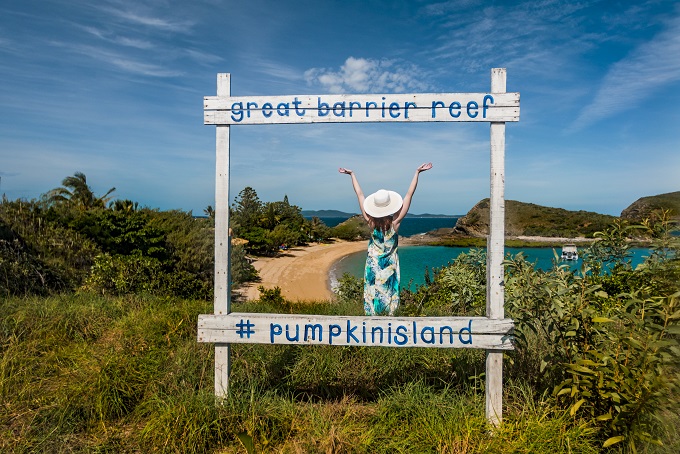 News In Brief
Tourism
Trying to sell a private island during a pandemic
The romance of owning a private tropical island is a delicious prospect, which beggars the question: What would you do with an entire island?
Pumpkin Island, part of the southern Great Barrier Reef's Keppel Group, has recently been listed for sale with an asking price in the vicinity of $25 million.
The 6-hectare sustainably developed island for eco-tourism is being sold by the Rumble family who own Sojourn Properties Pty Ltd, and the sale is being administrated Knight Frank Australia Pty Ltd.
Pat O'Driscoll, head of Knight Frank Rockhampton and region, told Accom News that buyer interest had been "extremely strong".
"I've been in real estate in Central Queensland for over 40 years and I've never had such a strong response of inquiry," says Pat.
He puts the interest down to the natural beauty of the island and also "the COVID affect".
"The romance of owning an island is pretty high," says Pat.
"COVID has also put a new dimension on the sale, which we wouldn't usually have.
"If you're requested to stay at home, and if you have the financial ability to call an island 'home', then staying there for the duration is not a bad option."
During the pandemic, life continued as normal for custodians Laureth and Wayne Rumble and their children.
Deborah Cullen of Knight Frank Prestige Residential NSW said: "We expect it will be even more attractive in the current climate post COVID-19 for someone who wishes to use it as a safe haven during any possible future pandemics."
Pat said when you looked at the supply chain and logistics for getting to/from Pumpkin Island, then it presented a very attractive opportunity to buyers.
Pumpkin Island is 14-kilometres off the coast of Yeppoon and near Rockhampton, which has three hospitals, is where the local helicopter rescue service is based and its airport has an international length runway.
According to Pat, other islands for sale didn't have the same convenience and amenity as Pumpkin, even though they were "as attractive in many ways".
"Pumpkin is a one-island opportunity, you're not sharing it with other owners or National Parks, which makes it garner higher interest."
The island is on a rolling commercial tourism lease, valid until 2046, and currently there is approval within the lease to add additional infrastructure, according to Laureth Rumble.
"The choice is there to use the island privately for part of the year or rent it out for the whole year," Laureth explains.
"We usually shut the island down for one-month a year, but this would be up to the new owner."
Pumpkin island first opened to guests in 1964 and is a private whole island escape offering eco-friendly accommodation for up to 34 guests in five fully self-contained oceanfront guest cottages and two bungalows. It is completely off-grid and powered by solar, wind and has plenty of rainwater storage.
Pat said while guest numbers were currently capped at 34, this had the potential to be increased, subject to State Government Ministerial and Local Government approval.
"Capricorn enterprise is incredibly supportive of tourism in the region and assists in marketing, sales and training for Pumpkin Island.
"They also lobby local councils and government when needed to achieve desired results, including tourism development plans."
Mary Carroll, CEO Capricorn Enterprises, told Accom News: "the expectation is that all lessees will receive automatic opportunities to 'roll' or extend their leases, subject to adhering to the lease conditions."
"In the case of Pumpkin Island, there is absolutely no doubt that the current lessees, Wayne and Laureth Rumble, have continually improved this island and anyone purchasing this magical island on the Southern Great Barrier Reef will share the same custodianship and responsibility of this special place."
After a decade of being an Advanced Eco Tourism Certified operator, Pumpkin Island has now been awarded the position of a Green Travel Leader in Australia, and is currently a finalist for the Green Hotel of the Year category in the Finder Green Awards.
And in 2018 the World Boutique Hotel Awards named Pumpkin Island Australia's most sustainable hotel in Australasia. It was the first beyond carbon neutral island in Australia, offsetting 150 percent of its annual greenhouse gas emissions.
Laureth said her family had achieved many of their dreams here and they felt like it was the right time to hand it over to a new family.
"We would like to hand the island over to a new owner who would feel as much passion and responsibility for the beautiful environment we operate in as we do," she says.
"When you arrive on Pumpkin Island and experience it as we do every day, I think it transforms you."
Mary said she believed that with further investment the accommodation and facilities could be taken to "the next level", such as a 4.5-star rating and meals prepared by a chef.
Pat said a corporate buyer would be looking at retaining "the eco side of things" but that the existing accommodation could be elevated higher. He said a 6-star rating would put Pumpkin Island in a different stratosphere and that consumer demand was "extremely high" for hotels at this exclusive top end.