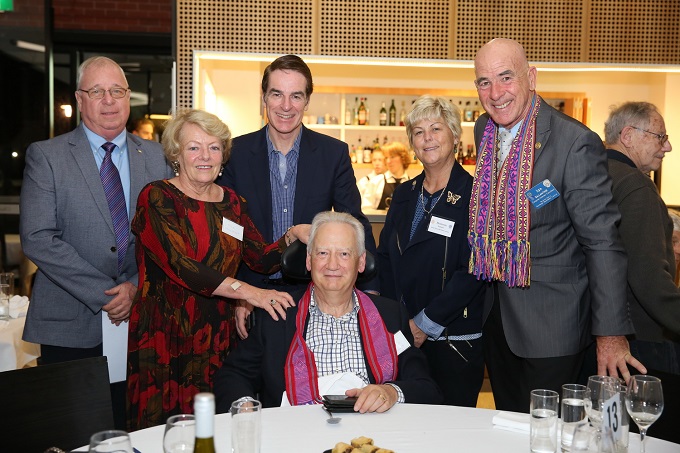 News
Vale Ricardo Krauskopf
This week, the accommodation industry lost one of its great leaders.
Ricardo Krauskopf was an innovator, an altruist, and a true gent, who passed away on September 24 after a long battle with motor neurone disease.
Accom News readers will know Ricardo and his wife Suzanne, who achieved national attention as the forward-thinking developers and owners of the green boutique Melbourne hotel – The Alto Hotel on Bourke. They used their 38 years of hospitality experience to ensure the property was environmentally friendly and achieved a green star rating from AAA Tourism. They owned the beautiful property from 1999 to 2015, it was partially built within the old heritage listed Australian Railways Union head office building and cleverly combines heritage with modern construction.
On Monday, friend and colleague Neil Devonport director of Apartments of Melbourne wrote a vale: "Today I pause to reflect on the life well lived of a friend, a mentor and one of life's gentleman. Ricardo Krauskopf passed away on Saturday morning following a crippling battle with MND, his funeral is expected to held later today.
"Like many who know Ricardo, I met him through the tourism industry and came to know and respect him over the years. He was one half of the dynamic duo, partnered with his beautiful wife Suzanne. He always described Sue as the most beautiful woman in the world, she was the centre of his eye.
"Ricardo is well known across our industry having started his Australian career after arriving from Chile in Tasmania. Ricardo and Sue Krauskopf were known in East Melbourne for developing apartment hotels including Birches Serviced Apartments, Albert Heights Serviced Apartments, Georgian Court Bed & Breakfast, and numerous others.
"These led onto the purchase of the Unity Hall building at 636 Bourke Street Melbourne, developed in 1916 to replace the 1860s Railway Hotel. This was converted by Ricardo and Suzanne in 2005 into a boutique 50-room hotel and serviced apartment complex, Alto, on Bourke Street. The award-winning hotel combined a mixture of sustainable design – utilising renewable energy and keeping beehives on the roof – with a rich building history.
"I remember the conversations about wall struts with a smile, Ricardo was convinced to reduce noise every rooms wall beams could not touch the previous ones, and he was right, Alto never had an issue with noise and these little touches, never seen, but so important to his mantra 'the guest be king'.
'In many ways, Ricardo was ahead of his time, championing sustainability in the tourism industry and often spoke at events and forums on this topic. It was not unusual to see Ricardo walking around with some new LED light bulb, some new water saving device or with a new idea in his mind on how things could be tweaked further to reduce the businesses burden on the environment.
"He said at the time 'we're not fanatics. We're just genuinely interested in sustainability and can see that it delivers business advantages and minimises damage to future generations. Sustainability can create amazing commercial opportunities and has increased our profits'.
"Ricardo understood the need to support the Victorian accommodation industry including his involvement with the Hotel, Motel and Accommodation Industry through its many names over the past 40 years. When I first met Ricardo, he was a board member of HMAA Victoria, praising the virtues of what these organisations did and why they were important to industry. Ricardo was critical in the merger of HMAA Victoria into VECCI in 2003/4. Ricardo could often be found at the board table or meeting with a motelier, sharing his passion for our industry and his hopes for its future.
"For Ricardo, supporting the community was intrinsic in his DNA, whether it was through his businesses which always seemed to find some way of paying back to the community or in areas such as the Rotary Club, Ricardo was only to happy to lend a hand. Whether it was flipping sausages at Bunnings to raise funds or lobbying politicians, he was always there doing his part to provide support. As a Rotarian he was involved with multiple clubs and became President of Port Melbourne as well as a Director of the international arm of the organisation's services. This involvement included a series of projects he felt passionately about, the Timor Leste School, Kindergarten and Hotel. Ricardo has had a 20 year plus commitment to the people of Timor Leste, including his association with the Balboa Five Trust.
"The story of the Balboa Five is well known however beyond this or maybe through this, Ricardo saw an opportunity to help the community left behind by years of war. He often spoke about Timor Leste with fondness and was successful in working with groups in New Zealand, Australia and around the world to fund and upgrade facilities to provide hope. The local fort was purchased as part of this work and the fort has been redeveloped into a small 4-star hotel, incorporating 8 luxury rooms, a restaurant and museum employing more than 20 people.  More recently, the school and kindergarten have also been upgraded much to Ricardo's' determination, as can be seen here with some of the local children.
"Ricardo Krauskopf always had time to say hello, open a door for someone and had genuine interest in others. He was a man of great conviction who made a mark on those he met. No one ever spoke a negative word of him and, how could they, he was always a gentleman.
"I have known Ricardo Krauskopf since 2001, almost twenty years and during that time, he has often been a mentor to me. I looked up to Ricardo and he happily shared his wisdom. We did not always agree, in fact we fought on several topics over the years, but each issue was resolved, and we moved on which says a lot about him.
"Over the past couple of years Ricardo has battled MND, and this battle has sadly been lost over the past days. As always, through his business life and personal life, there was one person battling with him and that is his beautiful wife Suzanne. I caught up with them for lunch earlier this year and as always Ricardo asked about business, before offering advice and a couple of names encase, I needed some more staff. In some ways, he was always there, offering some support in some way and as always, with nothing expected in return.
"He is now at peace and the challenges of the last two or three years have come to an end. His loss is our loss. Ricardo was my colleague, my friend, and my mentor. He is survived by his beautiful Suzanne, two sons Brad and Martin and their families who were the centre of his life."
Rob Hudson, on behalf of the Board of the Balibo House Trust, wrote on the charity's Facebook page: "Ricardo was a force of nature whose energy, commitment, vision and leadership has inspired so many to get involved in the cause of Timor Leste and the work of the Balibo House Trust."
His contribution was acknowledged by the Government of Timor Leste when Prime Minister Xanana Gusmao invited him in 2019 to the 20th. Anniversary of the vote for independence. Sadly, his illness prevented him from being able to attend.
Mr Hudson stated: "Ricardo's generosity of spirit is legendary, and he greeted everyone with open arms. He loved the people of Timor Leste and made many friends in Balibo. His loss will be mourned there as well as here in Australia.
"With the current COVID restrictions in Victoria we are unable to gather and pay tribute to Ricardo, but the family have expressed the hope that in the New Year we can join them to acknowledge and celebrate his wonderful life and amazing contribution.
"In the meantime, our thoughts are very much with Suzanne and their family. Vale Ricardo. You will continue to live in our hearts and inspire us to greater heights"
Shocked to hear the sad news, previous Tourism Minister John Pandasoupolus wrote: "Yes, Ricardo was a leader beyond his time. He set new standards in the industry and was one of the early pioneers of sustainability. He did an exceptional job with the Alto a heritage building which previously had been the home to the Railways Union.
"I had the honour of opening the Alto for him as Minister where he introduced me to that notorious Chilean drink Pisco Sour. At every turn he was there offering me another drink. I remember his work in Timor Leste."
 "The hotel you mentioned was supported with Victorian Government funding which he had secured by pursuing an alliance between the Victorian Government and Timor Leste via the knowledge of Tourism Victoria to create a tourism economic strategy for at the time the newest country in the world. I remember seeing him in the Premiers office when with some industry members and supporters of Timor Leste he had secured that support. He was very proud. RIP Ricardo."