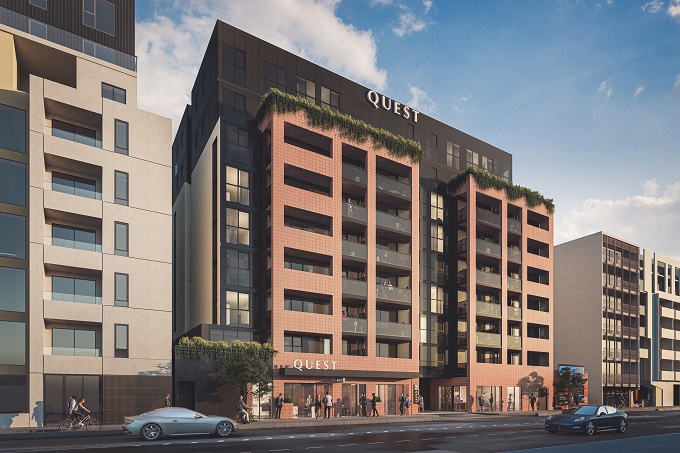 News
Quest Apartment Hotel doubles up in Collingwood
Two Collingwood hotels will give Quest a strong foothold in Melbourne's northeast
Quest Apartment Hotels has signed an agreement to lease an 83-room apartment hotel in Collingwood, with construction to commence July 1, 2021. This follows an announcement by parent company The Ascott Limited that it will introduce the millennial brand 'Lyf' to the Australian market, also opening Collingwood.  
Quest Hotel' Collingwood is a mixed-use commercial project by Melbourne high-end residential developer Centreland Group comprised of ten floors, eight of which will be occupied by Quest who will offer a mix of studio, one, two and three-bedroom apartments, guest front of house, conferencing facility for up to 80 people, business lounge and gymnasium.  
There will also be an additional two levels of office space, a ground-level café, and two levels of basement parking within the build.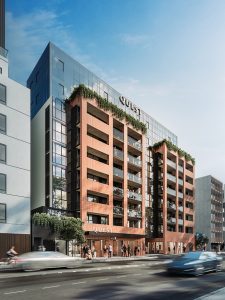 With over 16,000 businesses operating in Yarra primarily in the health care, professional, scientific and tech industries, Quest's general manager of growth and capital strategy, James Shield says the new hotel will sustain existing demand, as well as ongoing growth outlined in The City of Yarra's Community Infrastructure Plan.  
Mr Shields said: "Collingwood is one of Yarra's key employment precincts supporting over 84,000 jobs, and we believe there is a shortage of high-quality apartment-style hotel accommodation in the area to cater to current and future business travellers.
"We're pleased to be working with Centreland Group and CHT Architects to deliver a purpose-fit solution for the corporate market's long and short stay requirements".  
Quest Collingwood is scheduled to open November 2022 and according to Mr Shields, the hotel is just one of several Quest Apartment Hotels set to open in the coming years.    
"In Australia, Quest has nine agreements for lease signed totalling 715 rooms, primarily in regional and suburban areas with many due to construction set to commence this year.    
 "In addition, we have seven new hotels in New Zealand between now and June 2022 and will announce additional sites throughout the United Kingdom", said Mr Shields.  
In July 2020 Quest Hotel's parent company, The Ascott Limited, revealed plans to bring its millennial-focused co-living brand 'Lyf' to the suburb, with a 105-room hotel situated at 42 Oxford Street within Urban's C&L development.  
Ascott Australia's managing director, David Mansfield, explained that together the two hotels will give the company a strong foothold in Melbourne's northeast, collectively catering to a wide cross-section of guest segments across an accumulative 188 rooms.   
He said: "The population in the Collingwood precinct skews younger, so the Lyf brand in all its vibrancy is perfectly geared to students, tourists and young professionals, while Quest has carved its name as one of the preferred brands among Australia's corporate world and is ideally suited to extended stay, so each hotel will have its own unique character and guest experience on offer."
Construction stage architects CHT– the same team behind Lyf – say the building will fit seamlessly into the distinctive character of Melbourne's northeast.
CHT Architects Associate Tanjung Satrio Buntaram said: "The new building will blend into the industrial and diverse context of Collingwood; the dichotomy of red bricks and glazed facades are sensitive to the area's existing buildings and rich history, whilst providing a new refined level of modernity."