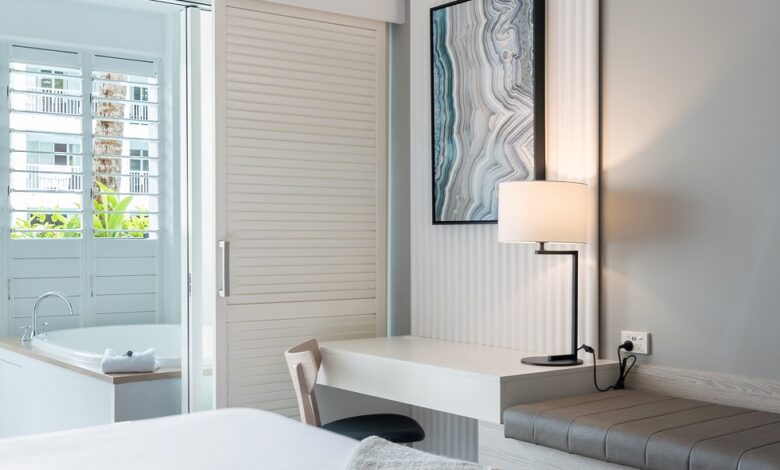 Case Study
Refurbishment
Who doesn't want to stay somewhere luxurious, unique, and relaxing?
Guests to North Queensland's Peppers Beach Club do, says Sylvia Van Ommeren co-owner of 3D Wall Panels
Guests love the beautiful new look at Accor Hotels' casually elegant Peppers Beach Club and have been impressed with the eye-catching addition of paneling used by Mel Porter Design in the beautiful refurbishment of the North Queensland resort in Port Douglas.
Mel Porter of Mel Porter Design was instructed to refresh the accommodation rooms of the resort using a refined, coastal-inspired palette and decided to include 3D wall panels in a linear pattern as the artistic focus of her design.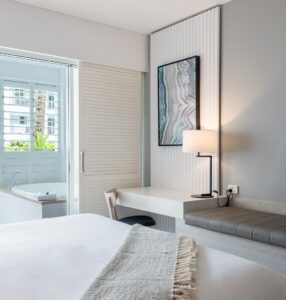 She chose the 'Logs 50mm' as the panels have a convex shape that provide a subtle, textural form that beautifully defines the separation between spaces such as the living and dining area and the study desk.
Sylvia Van Ommeren, co-owner of 3D Wall Panels explained why the panels have become the newest accommodation design trend for new builds and refurbishments.
She said: "Not only do the panels look beautiful and distinctive but they can cover a large area quickly. They are easy to install as Aizer Building found in the installation at Peppers resort and the design options are endless. There is a stunning array of 3D Wall Panels' designs to choose from such as relaxing 'Dunes', midnight 'Stars' and beachside 'Waves'. They are Australian made from sustainable raw materials and can be supplied Australia-wide.
"They are a design secret weapon that can fit into any budget."